BY LINDA WOOD RONDEAU
As Christian writers, we should take a lesson from Amaziah who aligned himself with forces foreign to God. We cannot isolate ourselves from the world. Yet, we need to insulate ourselves from its influence.
Amaziah was the son of Joash and took the throne of Judah at the age of twenty-five. Joash had a great start to his kingdom. He became king at seven years old, and his heart was burdened to rebuild the temple. But when his mentor, Jehoiada died, Joash lost his good counsel and started listening to the leaders. To preserve his throne, he turned to idolatry and killed the sons of his mentor. All the good Joash had done was undone by his apostasy. He was buried in Jerusalem but not in the tombs of the kings.
Amaziah was old enough to understand and see what happened to his father for not following the Lord. In 2 Chronicles 25 we read, "He did what was right in the sight of the Lord, but not with a loyal heart." (NKJV)When Amaziah took the throne, he executed those responsible for the death of his father, but not their children, following the law that said the children would not be punished for the sins of the father and that a person would die for his own sin. Then he set about building the army in preparation for war against Edom.
Unfortunately, Amaziah looked to sinful Israel to hire more "mighty men" for the army.
A prophet confronted him. "Don't let the Army of Israel go with you. God is not with them. If you do, you will fail." He had consulted the Lord beforehand. But he did listen to the prophet and discharged the soldiers he'd bought from Israel. And these men returned with a great anger toward Judah. After his successful military campaign, the soldiers from Israel attempted to weaken Judah through plundering, killing many. Amaziah lost his confidence in God and brought idols into Jerusalem from Seir and "set them up to be his gods."
As God often does when we go astray, he sent Amaziah a prophet who pointed out his error. But this time, like his father, Amaziah did not listen. Perhaps his little success gave him a sense of self-importance and he became overconfident. He chose to fight Israel and lost. So great his defeat, he never recovered. Many conspired against him so he fled to Lachish. But those who sought his life found him and killed him, bringing his body back to Judah to be buried.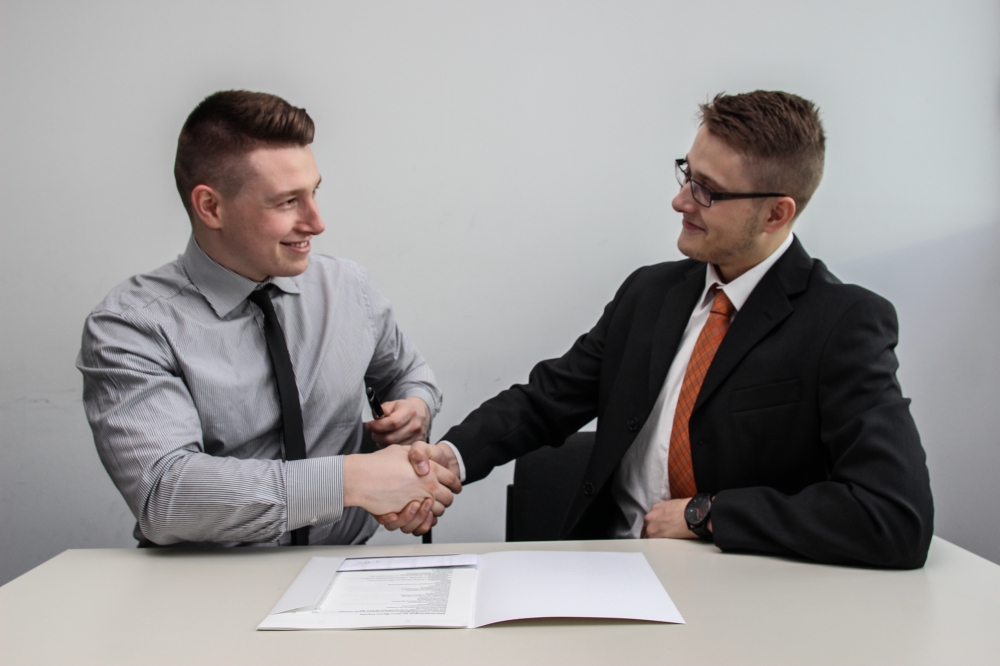 Photo by Sebastian Herrmann on Unsplash shaking hands
When I read Amaziah and Joash's story, I am convicted that I should not rest in success. There is a danger in believing any success is from my own effort. Perhaps there is a blessing in disguise in the struggle because it keeps me dependent on the Lord. Amaziah's fall to ruin began with aligning himself with those who did not follow God. He looked to evil Israel instead of looking to God who had helped him in times past.
Writer, we need to be cautious in this industry. While our path to publication may involve working with companies that do not follow God, we need to be cautious in these alignments. We cannot isolate ourselves from the world, but we can insulate ourselves from the world's influence, staying true to what we know honors God and seeking wisdom from him rather than the word.