If I'm queen of my castle, why am I the one folding clothes?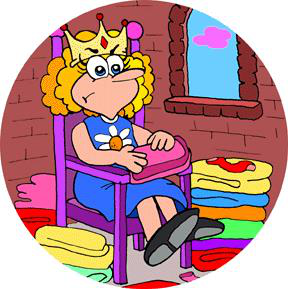 A real leader faces the music,
even when he doesn't like the tune.
Anonymous

My coworker, Cherrie, and I were commiserating the tribulations of raising teenagers. In mid-discourse, she received a phone call from her sixteen-year-old daughter. I overheard Cherrie's loud objections as she argued with her daughter. "No, you most certainly cannot go with your boyfriend on an overnight trip." Apparently, Cherrie's daughter raised objections of her own. Finally, Cherrie ended the debate:
"I am the Queen. Fear me!"

Parents often forget the power they possess by being older, wiser, and stronger than our children. When our little princes and princesses are born, we, the royalty, legislate, judge, and execute the law. The home is not a democracy; it is a benign monarchy.

My children gave me a plaque that sports the truism, "If Mama ain't happy, ain't nobody happy." It was prominently displayed as a reminder, "Don't mess with the queen."

As a social worker, I frequently encouraged parents to establish benevolent authority in the home. Tyrannical parents may produce children who revolt. However, when parents make little effort to reign, children run amuck.

A child's perception of authority is well established even before the age of six. How authority is established in the home will have a lasting impact on our progeny.
God told Moses…for, I, the Lord your God, am a jealous God, punishing the children for the sin of the fathers to the third and fourth generation of those who hate me, but showing love to a thousand generations of those who love me and keep my commandments.
Establishing a God-like authority is for the good of our children and our children's children.
God's authority is never rendered arbitrarily. His edicts have purpose and direction, and we are the better when we adhere to them.

Webster defines authority as: a convincing force. A God-like authority is final. When God speaks, the tidal waves recede and peace is restored. Throughout the Bible, God ended His instructions with the only qualification necessary to establish His authority, "I am the Lord, your God."
To fear the LORD is to hate evil; I hate pride and arrogance, evil behavior and perverse speech. Counsel and sound judgment are mine. I have understanding and power. By me kings reign and rulers make laws that are just; by me princes govern, and all nobles who rule on earth
(Proverbs 8:13 – 16)