To finish the journey, one must stay on the road.
These commandments that I give you today are to be upon your hearts. Impress them on your children. Talk about them when you sit at home and when you walk along the road, when you lie down and when you get up. Tie them as symbols on your hands and bind them on your foreheads.Write them on the door frames of your houses and on your gates
(Deuteronomy 6:6 – 9)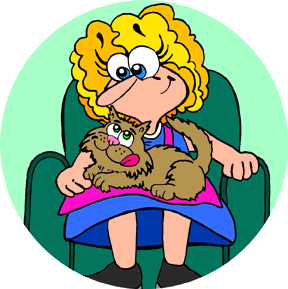 That's it! I've had it with this whole thing! He's never going to use it. Why do I even bother?" I moaned after lifting Jimmy off the potty chair for the twentieth time that day. He'd been more interested in the mechanics of the interlocking pieces than performance. My mother laughed. "Parenting is a war of the wills. You have to outlast them. Kids can be persistent, you know."
With the warning, I buckled in for a twenty-year ride on the merry-go-round. I'd encountered exasperating persistence once before in the form of a two-pound, orange-and-white terrorist named Duffer, our newest kitten addition, who had set his sights on the glittering balls that adorned our Christmas tree. At first, a stern, "No! Duffer!" deterred his intentions—not for long, though. Understanding of the cat's nature, I confidently raised the ornaments a little higher on the tree—out of paws reach. Simple solution—so I thought. Duffer climbed the tree in a formal declaration of war. One morning I caught him napping in the upper branches, basking in his victory. When the tree toppled over, I settled on a cease-fire agreement. We bought a small fiber-optic tree, hoping time and patience would once again allow us to enjoy our full array of ornaments.
Surrender is easier than continued warfare. It takes less energy to say, "Yes," than it does to put a foot down and utter a stern, "No!" Unfortunately, children lack the fundamental capacity to ascertain cause from effect. In a teen's mind, his current cold has little to do with the fact he went outside without a coat.
The child cries for independence, absolute control of his environment. She will bulk at discipline as naturally as she spits out castor oil.
Spiritually, we are much like our stubborn offspring. We expect God to change His laws to suit our desires. When we stumble and fall, we prefer to blame Him rather than take accountability for our own poor choices.
God does not give up on us. He delivered His beloved Israel from Egypt and sustained her in the desert. He gave her kings and prophets. When her stubborn heart continued to resist, He sent His only Son, His very representation as an offering and way for reconciliation.
He loves us with that same everlasting love (Jeremiah 31:3). He is the Hound of Heaven who relentlessly pursues. His discipline is not meted with vengeance but delivered with mercy—and infinitesimal patience—a patience that surpasses our toughest resistance