Introducing fellow Lighthouse of the Carolina's Author
Carol Heilman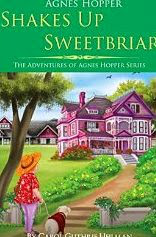 WHO IS AGNES HOOPER?

She is a spunky, out-spoken widow. Her husband, Charlie, died two years and three months ago, but she still asks his advice. Agnes lives on their small tobacco farm with her pet pig, Miss Margaret, until a kitchen fire forces her to live with her daughter, Betty Jo and her husband, Henry.


After mother and daughter agree they cannot live together, Agnes moves to a retirement home, Sweetbriar Manor. That's when the fun, the trouble, and the 'shake up,' begin.


Through the eyes of Agnes soon after coming to the Manor:


I walked to a window, where I pulled back one velvet drape, and stood looking out for a good long while. I'd acquired the habit on the farm. Before retiring, I'd rest my eyes on shadowed fields or the darkened tobacco barn or the cedars along the fence row. I listened for a hoot owl's call or a raccoon rummaging in the night. My heart grieved for all those things.
Backcover Excerpt
Summer's steamy haze coats North Carolina's Blue Ridge Mountains, but feisty Agnes Marie Hopper discovers the heat isn't the only thing causing her blood to boil. After a kitchen fire destroys her home, Agnes moves in with her daughter, Betty Jo. Three months later they come to an understanding. Neither can tolerate living with the other. So on a sultry August morning Betty Jo drives Agnes and her few belongings to Sweetbriar Manor, a local retirement home and a former house of ill repute.
With no intention of staying, Agnes devises a scheme to sneak out of the Manor and find another place to live. Before she can make her exit, she runs into her best friend from high school, along with some other quirky characters. With a nose for trouble, Agnes learns some of the residents are being robbed, over-medicated, and denied basic cable and Internet access.
Armed with nothing more than seventy-one years of common sense and a knack for pushing people's buttons, Agnes sets out to expose the unscrupulous administrator, protect her new friends, and restore Sweetbriar Manor's reputation as a "rewarding and enriching lifestyle." But the real moment of truth comes when Agnes is forced to choose between her feisty self-reliance and the self-sacrifice that comes from caring for others.
Carol Heilman, a coal miner's daughter, married a farmer's son, her high school sweetheart, over fifty years ago. She and her husband live in the mountains of Western North Carolina. Their children and grandchildren live near the east and west coasts where they often visit. Carol enjoys traveling, reading, writing, hiking, and cooking for friends. She is a recipient of two Carrie McCray Awards for writing excellence. Visit her at http://www.carolheilman.com/sweetbriar-inspirations
Twitter: twitter.com/CarolHeilman