We are Fearfully and Wonderfully Made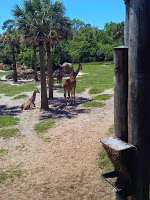 Consider the giraffe.
Logically, the giraffe should not survive. It is an awkward animal and too gangly. Because its head is so far removed from the heart, by reason, the giraffe should collapse from the pull of gravity. But, the Creator designed the giraffe's physiology to support its unusual height and build. Instead of low blood pressure like most mammals, the giraffe has high blood pressure, normalized by its superior heart construction.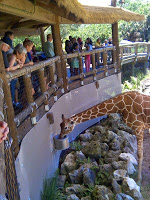 I admit, I'm a pouter. I tend to mourn what I lack rather than accept and rejoice in what God has ordained for me.
I forget that I am made exactly as He chose me to be though often His design for me makes no sense. He calls me to look at the creatures of land and sea. And He reminds me that each creation bears its own mark upon the earth, though their feats seem impossible.
How can anything as big as a whale propel itself through the water and into the air?
What we fail to realize is that God has designed all living things according to His good pleasure.
Like humans, lesser developed animals such as fish and birds have been found to have side dominance. Fish tend to use one eye more than another as they search for predators. Since there are more right-eyed fish, they swim with the school to avoid danger. However, left-eyed fish flee in the opposite direction, their behavior confusing to their enemies. I imagine God revels in their flight.
Only humans, those He made in His image, defy God's design. We shake a fist at the Creator and say, "Why did you make me this way?" Does the giraffe ask God why he isn't like the horse? Does the left-eyed fish tell God he wants to swim with the other fish? Does the whale take issue with the Almighty for the ups and downs of its life?
Years ago, teachers were advised to "retrain" children who tried to write left-handed. They believed that allowing this physiological aberration would impede the child's ability to read.
Psychologists now believe that left-handedness, in actuality, provides an advantage. This is seen in the sports world by legends such as golfers Bubba Watson and Phil Mickelson, baseball's Babe Ruth, and boxing hero, Gentleman Jim Corbett. Some studies indicate that left-handed people tend to have higher intellectual capacity, thinking outside the norm, as evidenced by Albert Einstein, Isaac Newton, and Benjamin Franklin. The website, "Anything left handed" provides a list of famous lefties from all walks of life. These people learned to embrace their difference, to see the abnormal as opportunity.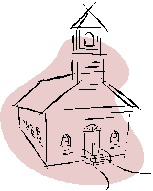 I wonder if the church has not become like the well meaning teachers who believed left-handedness should be discouraged.
Do we sometimes chastise a fellow believer because they think or act outside established church protocols? Do we sometimes think the believer who swims away from the school of the scripturally learned is lacking in faith? Perhaps God has designed some of us to stretch our long necks and feed from the topmost branches or push from the depths into the air, spouting with enthusiasm.
Perhaps, like the oddities of his creation, God has instilled all believers with a unique stamp for His good pleasure? "I praise you because I am fearfully and wonderfully made;" (Psalm 139:14a NIV).