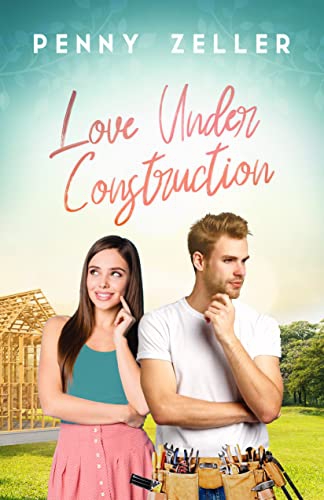 FICTION FRIDAY
BOOK REVIEW
LOVE UNDER CONSTRUCTED
TITLE: LOVE UNDER CONSTRUCTION
AUTHOR: PENNY ZELLER
GENRE: Contemporary Christian Romance
RELEASE DATE: November 30, 2021
PUBLISHER: Maplebrook Publishing
My rating **** 4 Stars
THE STORY BEHIND THE STORY
I honestly don't remember where the initial idea for Love Under Construction came from; however, I do have tidbits in the story that were based on real events. For instance, when Max flings the chicken nugget across the restaurant. That was actually inspired by a true story that took place in a nice restaurant years ago. My husband and I were eating with our oldest daughter, who at the time was two or three years old. Even back then, she was destined to be athletic, as she took her crayon and flung it across the room. It landed in another customer's coffee. I can still see my daughter's face with her bright eyes, wide smile, and a contagious giggle. As for my husband and I? We truly wanted to escape the restaurant as quickly as possible!
Another and more serious example of a real-life inspiration for the story would be my mom. Just like Cynthia Brady, my own mom (ironically, or maybe not so ironically, named Cindee) fit the bill. She is a strong woman, not only in the sense of personality; but, even more importantly, she is a strong woman of faith. Life has not been easy for her in the past decade, with diagnoses of scleroderma, fibromyalgia, and severe chronic pain. From the time I was a young girl, she tenderly guided me through the challenges of life with a listening ear, a hug, and wise words of advice. Most importantly, through the years, she has discipled me in my walk with the Lord. Cynthia Brady does the same for Irelynn. At this moment in her life, Irelynn faces some huge obstacles. The main theme of Love Under Construction is relying on God during all times—the good and the bad. So while there are some differences between Cynthia and my mom, my mom definitely inspired the character of Cynthia Brady.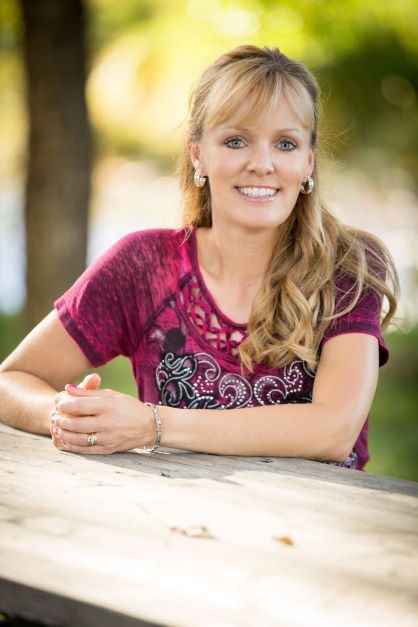 Penny Zeller is known for her heartfelt stories of faith and her passion to impact lives for Christ through fiction. While she has had a love for writing since childhood, she began her adult writing career penning articles for national and regional publications on a wide variety of topics. Today Penny is a multi-published author of several inspirational books. She is also a homeschool mom and a fitness instructor.
When Penny is not dreaming up new characters, she enjoys spending time with her husband and two daughters, camping, hiking, canoeing, reading, running, cycling, gardening, and playing volleyball.
She is represented by Tamela Hancock Murray of the Steve Laube Agency and loves to hear from her readers on her website at www.pennyzeller.com and her blog, random thoughts from a day in the life of a wife, mom, and author, at www.pennyzeller.wordpress.com.
MORE ABOUT LOVE UNDER CONSTRUCTION
She builds websites. He builds houses. Together, can they build a family for two orphans?
Irelynn agreed two years ago to help raise her best friend's twins should anything happen. When she is called upon to fulfill that agreement, there is only one problem—Irelynn must share the responsibility with the arrogant but handsome Quinton Gregory.
Quinton takes the role of raising his niece and nephew with all seriousness. He will do anything for the twins, even if it means putting up with the beautiful but stubborn Irelynn Brady.

When forced to be in each other's presence far more often than is comfortable, things slowly begin to change. Will the unexpected attraction between Irelynn and Quinton become a love under construction?
Buy Link https://www.amazon.com/Love-Under-Construction-Penny-Zeller-ebook/dp/B09M9BDNK4/
MY REVIEW OF LOVE UNDER CONSTRUCTION
Quinton's sister and Irelynn's best friend has died, leaving her two children as orphans. In her will, she has asked Quinton and Irelynn to share custody.
I had a difficult time deciding to give this a 4-star or 5-star rating. The book was well written. Though I'm not a fan of Hallmark-type romance stories, the book held my interest. The plot basically moved slowly but was all about the emerging romance so the pace was justified. I did like how the hero and heroine eventually developed their relationship from "nemesis" to romance interest. What I struggled with, and this is just me (lovers of romance will enjoy this element), is the basis for the initial animosity between Irelynn and Quinton. To be so vehemently against an individual for being stood up on a date is understandable for non-Christians, I suppose. But both these individuals are Christians. One would think they'd have the maturity to try to figure out if there had been a misunderstanding rather than assume the worst. However, this does play into characterization somewhat since Irelynn is quick to assume things that may or may not be true. Quinton is struggling with PTSD from Afghanistan war memories. He does a little better in this regard as he will simply ask, "What's wrong?" Irelynn does begin to grow this character flaw as the story moves on. I liked the premise of joint custody of the twins and how Quinton, though he probably had the legal right to sole custody, permits the arrangement to honor his sister's wishes.
If you are a fan of sweet romance, I highly recommend this book. I was given a copy for my honest review.