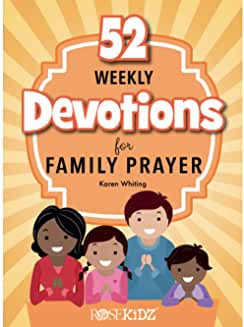 TUESDAY'S TREASURE
A BOOK REVIEW
52 WEEKLY DEVOTIONS FOR FAMILY PRAYER
by Karen Whiting
***** 5 stars
Genre: Nonfiction for families
A WONDERFUL DEVOTIONAL BOOK FOR FAMILIES
I am excited about the possibilities for this book to bring families together in prayer and worship. Whiting not only lists the weekly concepts but also provides ideas in implementing these pockets of inspiration. I especially liked the idea of how to include the absent parent, especially one who must travel a lot. I am listing a sample here, but I encourage you to view this on Amazon to see how wonderfully the book is illustrated … sure to delight children.
https://www.amazon.com/52-Weekly-Devotions-Family-Prayer/dp/1649830262
A SAMPLE
Week 1
What is Prayer
Family Beatitude: Happy is the family who understands prayer, for they know God listens
Focus: Understanding prayer
Weekly Bible Verse: "Here I am! I stand at the door and knock. If anyone hears my voice and opens the door, I will come in. I will eat with that person, and they will eat with me." — Revelation 3:20
Family Prayer Method to Try
Head to Toe Prayer
Pray for God to help you with each part of you. Touch your body part of you as you pray for the following and look up the verses.
Give me the mind of Jesus, 1 Corinthians 2:16.
Guide my eyes to seek you and opportunities to help others, John 8:32.
Open my ears to listen and obey, Luke 11:28.
For my tongue to confess Jesus as Savior, Philippians 2:11.
Help me open my mouth with kindness and praise, Ephesians 4:29.
Fill my heart with love everyone you created, and also for you Luke 6:45-46.
Help me use my hands for good works, Psalm 90:17.
May I be thankful for the food you provide, John 6:11.
I kneel to honor you Almighty God, Psalm 95:6.
Guide my feet, Psalm 23:2, Proverbs 4:26.
Then say, "I follow God from my head to my toes!"
Activity Options on Understanding Prayer
Make a doorknob hanger with words that welcome Jesus
Write a prayer to God. Start with the greeting, Dear ________
Prayer is spending time connecting with God, talking and listening. Do some connect the dot puzzles to discover the picture. Discuss how prayer help us know God.
Learning to Talk
"Mommy, Billy said 'Dada.'"
"He's learning to talk."
"What was my first word?"
"Duck." You loved feeding the ducks. You would grab oats your hands and run down the hill yelling 'Duck, duck." The ducks would waddle to you and eat as oats fell out of your hands. Then you'd sit and the ducks gathered around you.
"That's funny."
You were so excited to see them. God wants us to be that excited when we pray. He loves hear you call his name."
"When did I start to pray?"
"We prayed over you every night and at meals like we do now. One day you started to clap as we folded our hands to pray. Then you started to repeat phrases we said, like 'God bless,' 'tank you,' and 'amen.'
"I'm still learning more about how to talk to God and to stop and listen."
Bible Story Connection
Read Nehemiah 1:5-11. Discuss what Nehemiah said to honor God, confess, show he knew God, and what asked for.
Chat Prompts
Moses came down from Mount Sinai. He had the two tablets of the covenant law in his hands. His face was shining because he had spoken with the Lord. But he didn't realize it. — Exodus 34:29
Moses had such a close prayer life with God that his face shone. He lit up! Talk about what gets you excited about praying.
"When you pray, do not keep talking on and on. That is what ungodly people do. They think they will be heard because they talk a lot." — Matthew 6:7
Discuss how we don't need big words or to impress God. What do you need?
Look to the Lord and to his strength. Always look to him." — 1 Chronicles 16:11
What does this verse remind us about prayer?
Family Prayer Journal
Draw body parts and write prayers for each picture.
Write your first words and some new words to God.
Nehemiah prayed for his country. Write one for your country.
Prayer
Dear Lord, help us be excited to pray. Let us just talk to you.
Wrap up
Prayer is communicating and building a relationship with God
MORE ABOUT 52 WEEKLY DEVOTIONS FOR FAMILY PRAYER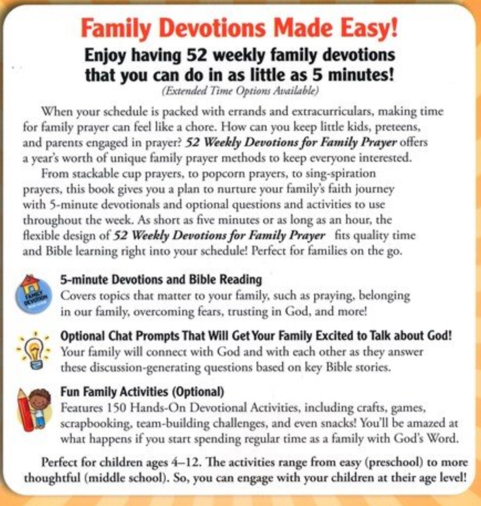 ABOUT KAREN WHITING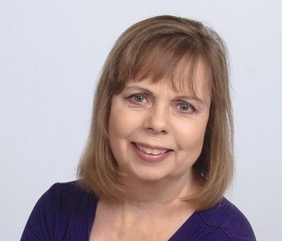 Karen Whiting (www.karenwhiting.com) writes to help families thrive. She's a certified writing and marketing coach, international speaker, former television host, and award-winning author of more than thirty books for women, children, military, and families. She's sold more than 800 articles for more than sixty periodicals and is a marketing columnist for The Write Conversation Blog and a writer for crosswalk.com. As a writing and marketing coach, Karen helps clients overcome obstacles, develop a personalized marketing plan, maximize strengths in writing and marketing, find direction, focus on what's salable, and improve their writing ability as well as develop a larger plan for their writing career.
She's a mom of five (including two rocket scientists) and a grandmother. Karen enjoys adventure like camel riding in the Canary Islands, white water rafting in Australia, and scuba diving off Bermuda's coast. She heads to the Mediterranean next summer.
Her newest books are Devos for Brave Boys (Tyndale Kids) and The Super-Sized Book of Bible Craft Gifts (Rosekidz division of Tyndale House Publishing), Growing a Mother's Heart, and 52 Weekly Devotions for Family Prayer.