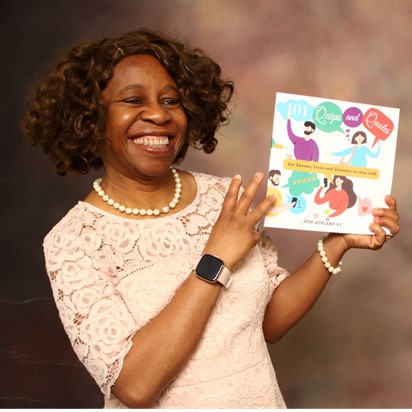 PLEASE WELCOME
ADA ADELEKE-KELANI
TO
ANYTHING GOES
EXCERPT FROM 101 QUIPS AND QUOTES BOOK 3
Inspirationally speaking
"If you try to be everything to everyone, you will be no one to yourself." (See Quip 28 in 101 Quips and Quotes for tweens, teens, and twenties to win with aka Book 3 in the 101 Quips and Quotes Book Collection)
The saddest way to live life is as a man-pleaser because people will always find something that you have not done right. Focus on being a God-pleaser. "When the way you live pleases the Lord, he makes even your enemies live at peace with you." (Proverbs 16:7 – New International Readers Version)
ABOUT 101 QUIPS AND QUOTES BOOK 3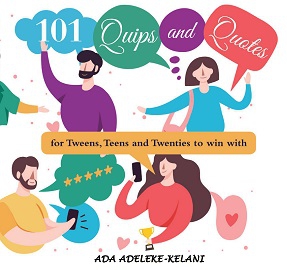 Synopsis of 101 Quips and Quotes 101 Quips and Quotes for Tweens, Teens and Twenties to win with (aka Book 3 in the 101 Quips and Quotes Collection)
Being in your tweens, teens or twenties can be captivating, challenging, and sometimes confusing. While some individuals in these age ranges seem to have it all together, others have difficulties in identifying and/or accepting who they are and what their purpose in life is.
Winning in life is about knowing and fulfilling your purpose in life and this book is filled with quips and quotes that will help its readers win in life.
There are many things that help people (of all ages) win
including:
- Willingness to learn, relearn and sometimes unlearn,
- Intentionality in your decisions and actions, and
- Nurturing the right relationships – first with yourself and then with others.
This book touches on all those aspects of life and more. The quips and quotes in this book are witty, insightful, and nourishing not just for tweens, teens, and twenties, but for all those who know and love them.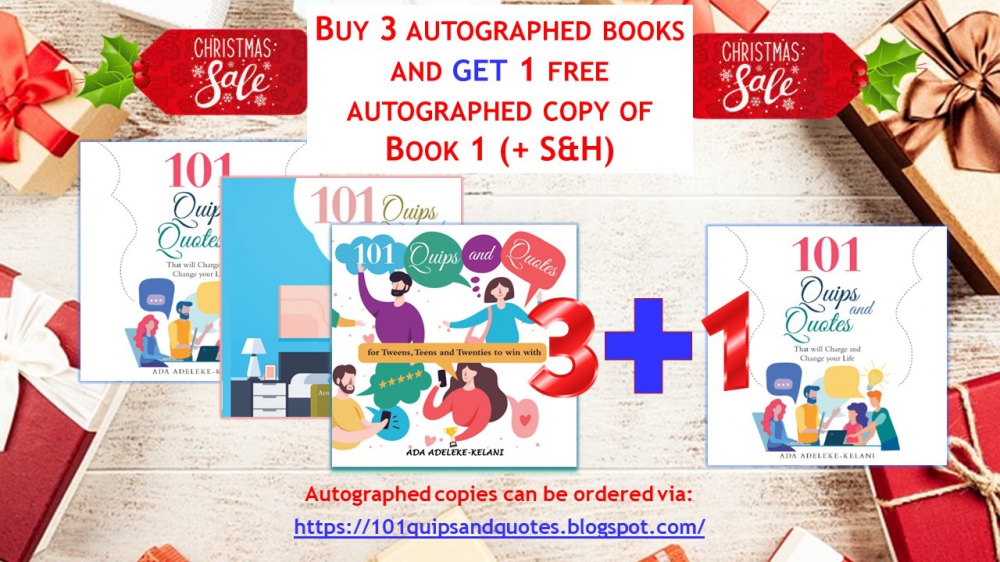 ABOUT ADA ADELEKE-KELANI
Ada Adeleke-Kelani is a transformative leader who has worked in different countries and led multi-generational and multi-cultural teams. In addition to being a CPA, CA, she has an MBA in International Business Management.
She is also an inspirational speaker and a certified leadership and life coach. As the Diamond Cutter Coach, her purpose in life is to help others discover and deploy their brilliance so they fulfill their purpose and reach their peak in life.
Ada is very engaged and active in her community. She volunteers in her church and serves as a mentor and on the boards and board committees of not-for-profit organizations and professional associations.
She is the author of the 101 Quips and Quotes Book Collection which currently comprises:
101 Quips and Quotes that will charge and change your life
101 Quips and Quotes that will strengthen and sweeten your marriage and family relationships
101 Quips and Quotes for tweens, teens, and twenties to win with

In addition to her books, Ada inspires others through her daily Quip-spiration blog posts and her YouTube channel "Quip Corner with Ada".
Ada is married to Adeleke Kelani and they are blessed with 2 winsome sons.
You can follow her on:
Instagram: https://www.instagram.com/Quip_Corner/
Facebook: https://www.facebook.com/101QuipsAndQuotes/
YouTube: https://www.youtube.com/c/QuipCornerwithAda/videos
Quip Corner with Ada also has a Book Corner which is for Christian authors to promote their books. To be hosted on the Quip Corner with Ada, please send an email to peaakkonsulting@gmail.com