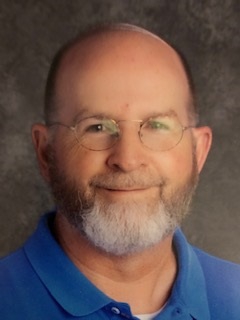 PLEASE WELCOME
MARTIN WILES
TO
ANYTHING GOES
Hannah was in deep anguish, crying bitterly as she prayed to the Lord.
When the time came, she immediately spoke up and shared.
My wife enjoys the small group atmosphere. A little lecture time on the Bible subject at hand, followed by a lot of discussion time, suits her just fine. When leading a small group, having someone like my wife in the group helps to get the discussion flowing. As she shares, others open up and talk also. After all, that's the point of a small group: talking, not lecturing.
But there are some things my wife won't share. The real personal things. I'm more apt to share them—and then hear from her later that I shouldn't have. She grew up in a home where her parents shared nothing personal. As many were from their generation, they were private.
Mom also possesses the gift of gab. One person once told my dad they knew why he went into the ministry: so he could have an opportunity to talk. Spending a little time with Mom bears out the truth of his observation. She shares … and shares again … and shares some more. So much so that getting a word in, takes effort.
Unlike my wife, Mom will share the personal stuff. Spend a little time with her, and anyone will know everything there is to know about me and my two brothers, along with our wives, children, and grandchildren.
Hannah bared her soul. No matter how hard she and her husband tried, she couldn't conceive. With tears of anguish, she took the matter to God, and He answered her prayer. As she promised, after the child was weaned, she returned him to God to work in God's house.
Sharing isn't easy for some because doing so involves vulnerability. And becoming vulnerable takes down the façade we enjoy erecting … the front that makes it appear we have life altogether and that we're perfect in every way—even though we know that's a lie.
But baring the soul carries important benefits. For one, it keeps us humble. As we share our struggles and pitfalls, we send pride—a trait God despises—out the window. And when we open up, it encourages others to open up and share as well. When this happens, we build trusting relationships with others—some that last a lifetime. We also learn from each other. Through small group interaction, I've discovered many biblical truths and life lessons I had never thought about before.
Why not find a small group and bare your soul?
ABOUT MARTIN WILES
Martin Wiles is the founder of the internationally recognized website, Love Lines from God (www.lovelinesfromgod.com), and serves as Managing Editor for Christian Devotions, Senior Editor for Inspire a Fire, Proof Editor for Courier Publishing, and Administrator/assistant Editor for Vinewords.net. He has authored seven books and has been published in numerous publications. His most recent book, Don't Just Live…Really Live released in November 2021. He is a freelance editor, English teacher, author, and pastor. You can follow him at https://www.facebook.com/martin.n.michelle and at https://twitter.com/linesfromgod.

ABOUT DON'T JUST LIVE … REALLY LIVE
What does it mean to really live? Using Jesus' Sermon on the Mount as the blueprint, Dr. Martin Wiles answers some of the most pressing questions that Christians have about effective Christian living. In this powerful work, Dr. Wiles shares eighteen insights for learning how to pray, handle our anger, love our enemies, overcome worry, have a healthy marriage, and so much more. Included are questions for personal reflection or group discussions. Don't Just Live . . . Really Live offers a practical approach for discerning how to live out the Bible in today's world.