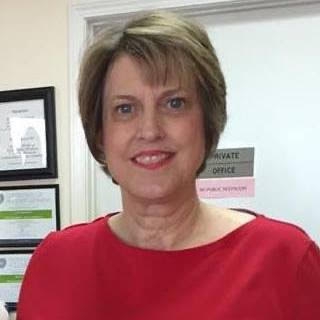 PLEASE WELCOME
DEBORAH MALONE
TO
ANYTHING GOES
EXCERPT FROM
BLOOMING IN BROKEN PLACES
CHAPTER 5
TRUSTING GOD!
Trust in the Lord with all your heart; do not depend on your own understanding. Seek his will in all you do, and he will show you which path to take. (Proverbs 3:5-6)
When my two girls reached four, they took swimming lessons from Richard a friend of ours. He had been teaching for years and many of the children in our town had taken lessons from him. It was amazing how he would slowly earn the trust of the children to the point they would jump off the side of the pool and swim to him. It was even more amazing when they reached the point in their lessons where they jumped off the diving board.
"Mommy, watch this!" These words can put fear in the heart of even the strongest of mothers, and I was no exception, and my heart skipped a beat as Erin took her turn on the diving board. But it was a beautiful thing to see the kind of trust Richard had built with these little ones.
Do you know how to swim?
Abba wants us to have that kind of trust in him - trust enough to dive off the side with total confidence that he will catch us. I think the following passage from Jeremiah says it all. Abba not only wants us to trust him in the good times but in the not-so-good times as well.
But blessed are those who trust in the Lord and have made the Lord their hope and confidence. They are like trees planted along a riverbank, with roots that reach deep into the water. Such trees are not bothered by the heat or worried by long months of drought. Their leaves stay green, and they never stop producing fruit. (Jeremiah 17:7-8)
Do you have the childlike faith in Abba that would allow you to trust in Him to meet your daily needs, have you lost that childlike faith you had when you were first saved or have you never had a childlike faith in him at all? Take this opportunity to reacquaint yourself with the words God left us concerning our trust in him. Let's get that childlike trust back!
Application Question: In what way is God calling you to jump into the water? Are you ready to take the plunge by trusting in him to keep you safe?
ABOUT BLOOMING IN BROKEN PLACES

Deborah Malone is no stranger to the trials of life that can rob a wo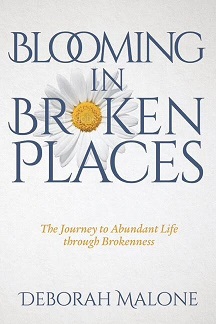 man of her self-esteem giving her the false belief she is unworthy to be used by God.
Deborah will take you on her real life journey from her early years when she became her mother's caregiver, to the rocky time of caring for her severely disabled daughter, to the disappointment and trials of an abusive marriage that left her broken and feeling worthless.

But Deborah's journey doesn't stop there. Through healing and a gradual realization of God's unlimited love, Deborah discovered how he can use her despite her limitations and healed her self-doubt. Discover your worth in God's plan as Deborah delves into how women from the Bible were all used by God, even while they were in Broken Places.

ABOUT DEBORAH MALONE
Death in Dahlonega, Deborah Malone's first novel, was a finalist in the American Christian Fiction Writer's Category Five writing contest! Deborah was nominated for the 2012 and 2013 Georgia Author of the Year in Novel category. She was awarded Georgia Author of the Year in 2018 for Inspiration Category. She is a member of the Advanced Writer's and Speaker's Association and the American Christian Fiction Writers. She has two grown daughters and lives in the North Georgia Mountains with her husband.

Website: www.Deborah-malone.com