PLEASE WELCOME
DONNA SCHLACHTER
TO
ANYTHING GOES
The LORD took hold of me, and I was carried away by the Spirit of the LORD to a valley filled with bones. He led me around among the old, dry bones that covered the valley floor. They were scattered everywhere across the ground. Then he asked me, "Son of man, can these bones become living people again?"
"O Sovereign LORD," I replied, "you alone know the answer to that."
We have all been through the valley of dry bones. We have each seen dreams that were never realized, loved ones who just don't seem to get it, jobs that fell through, things we have hoped and prayed for that just never seemed to come together.
Ezekiel had seen those things, too. He had seen a people who refused to listen to him as he preached God's word. He saw a nation that had turned its back on God, and he saw the enemies of God who seemed to be flourishing.
It was probably just as confusing for him as it has been for each one of us. We pray, we meditate, maybe we even fast – we do all the things we believe God has told us to do, and still nothing.
And yet, in the midst of all of this, God is still in control. In the midst of death and destruction is where God is able to prove Himself strong. How much more hopeless a picture could you paint than to see an entire valley floor littered with thousands and thousands of bones? Not just bones, but dead, dry bones.
The dream has been dead so long that the vultures have come along and stripped off every bit of flesh. And it wasn't just one or two dreams that have perished. Thousands and thousands.
And then along comes God to Ezekiel and says to him "Just speak the words I will give you." Sounds easy, doesn't it? "Just speak my words."
I'm pretty sure Ezekiel was thinking, "Right, God. Like that will do any good."
I know I would have. I do. I have. I am, right now. How about you?
And yet Ezekiel did what God told him to do. Maybe he stepped out in faith. Maybe he was bored and had nothing better to do. Maybe he wanted to prove God wrong. Or maybe, just maybe, he knew he had nothing else to lose.
And so he spoke. And you know the rest of the story. The dry bones were turned into living and breathing people again.
And so it is with the dry bones in our lives. God is saying to you, "Just repeat after me. It doesn't really matter whether you believe or not. I believe. Lean on my faith. I AM."
As you are faced with your own valley of dry bones, think about Ezekiel. And then listen as God tells you what to say to those things in you that you thought were dead and buried. Those pieces of hopelessness you had given up on.
And watch as He uses you to speak life and hope into those things. He wants to, and he will if you will let him.
Then He said to me, "Speak to these bones and say, 'Dry bones, listen to the word of the LORD! This is what the Sovereign LORD says: Look! I am going to breathe into you and make you live again! I will put flesh and muscles on you and cover you with skin. I will put breath into you, and you will come to life. Then you will know that I am the LORD.'"
Heavenly Father, forgive me for putting aside those things You have spoken to me in the past because I didn't see them come to be. Where my faith is weak, strengthen me, and then allow me to speak life from You into those dry areas. Amen.
ABOUT HOLLENBERG HEARTS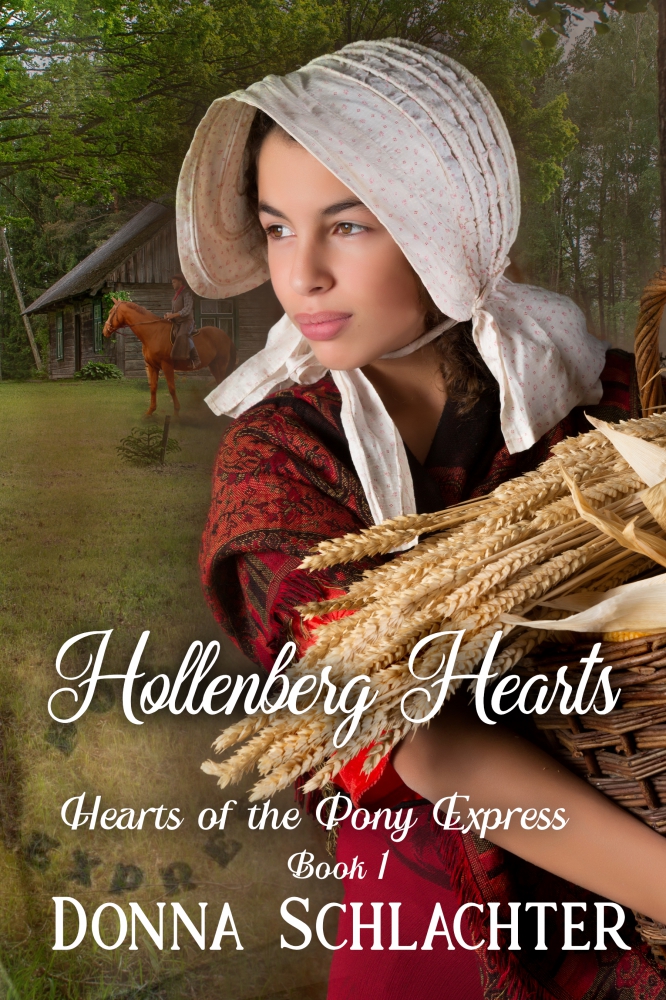 Can a woman find her future by escaping her past, and can a man find the truth in his present that will free them both, as they surrender their hearts to the God who pursues them?
ABOUT DONNA SCHLACHTER
Donna lives in Denver with her husband Patrick. As a hybrid author, she writes historical suspense under her own name, and contemporary suspense under her alter ego of Leeann Betts. She has been published more than 30 times in novellas, full-length novels, devotional books, and books on the writing craft. She is a member of American Christian Fiction Writers, Writers on the Rock, Sisters In Crime, Pikes Peak Writers, and Christian Authors Network. She also facilitates a critique group and teaches writing classes online and in person. Donna also ghostwrites, edits, and judges in writing contests. She loves history and research and travels extensively for both. Donna is represented by Terrie Wolf of AKA Literary Management.
SOCIAL MEDIA
Stay connected so you learn about new releases, preorders, and presales, as well as check out featured authors, book reviews, and a little corner of peace. Plus: Receive a free ebook simply for signing up for our free newsletter!
Facebook: www.Facebook.com/DonnaschlachterAuthor
Twitter: www.Twitter.com/DonnaSchlachter
Books: Amazon: http://amzn.to/2ci5Xqq and Smashwords: http://bit.ly/2gZATjm
Etsy online shop of original artwork, book folding art, and gift items: https://www.etsy.com/shop/Dare2DreamUS