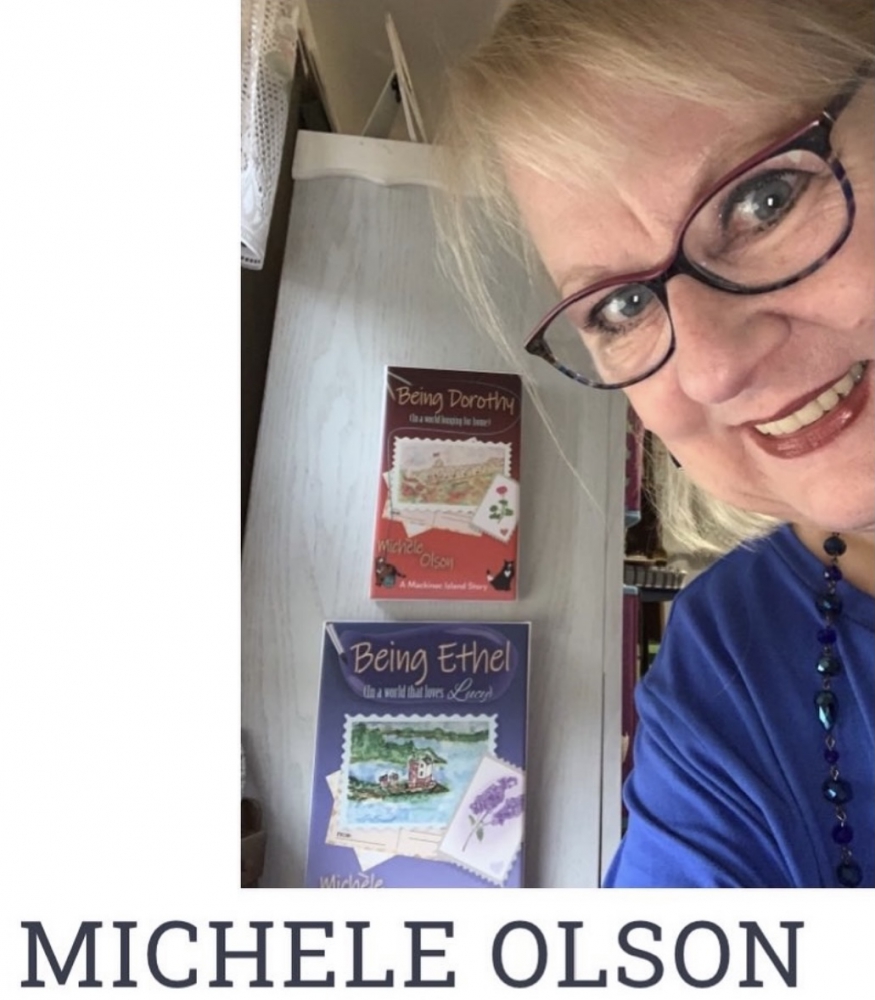 Today's Fiction Friday
What inspired me to write Being Ethel (In a world that loves Lucy)?
Ever since I stood at the doorway of my small-town library, waiting for it to open so I could peruse the shelf of Nancy Drew books to see which one I would read next, I thought I might write a novel. A mere 50 years later it happened! Right out of high school I began working in TV, which led to radio, copywriting, voice work, and corporate writing. My business writing career, being a wife, a mother, and a new grandmother through the years only left the idea of writing a novel swirling in my head with no real know-how of this different type of writing and time to accomplish this secret dream.
As my family was raised and I had a little more time to myself, the idea of writing a story set on Mackinac Island began to gel in my head, something I prayed about. That's when I came across a course with the writer of the Left Behind series – best-selling author Jerry Jenkins. That course promised we could learn the basics of being a good writer and if we finished a manuscript by a certain date, we were invited to a meet-up in Nashville with other writers being mentored in the course. That's what I needed, direction and a deadline.
My goal was to write a book that I would want to read. I knew there were rules to learn and follow, but I also wanted it to incorporate the quirky things I love and enjoy. I prayed some more, and it all started to come together in a story set on Mackinac Island in 1979. I wanted to add my love of I Love Lucy, old Hollywood, and TV shows; and I wanted the story to have a strong faith element, of someone finding their way to an authentic belief in Jesus.
That's how the character that comes to life in the first novel Being Ethel (In a world that loves Lucy) is born. Her name is Piper Penn and she and Mackinac Island will remain the "constant" in my series of stories filled with mystery, romance, friendship, and faith. In Being Dorothy (In a world longing for home) Piper becomes a secondary character. In that book, I got to add in my love for Wizard of Oz and James Bond-type movies. I'm currently working on Being Alice (In a world lost in the looking glass) and well, you get the idea!
As I hit my 65th birthday this year, I find myself approaching fiction writing with the same excitement I had as I waited to pick out my next Nancy Drew novel. Yes, there are tropes, rules, and dos and don'ts, but mostly, I feel the freedom to commit to writing well, and putting together stories of what I see as important, sacred, fun, snarky, loving, gentle, authentic, and satisfying. If I find other kindred friends who want to enjoy a journey by reading my novels, that is all the young girl on the steps of the library could hope for.
MORE ABOUT BEING ETHEL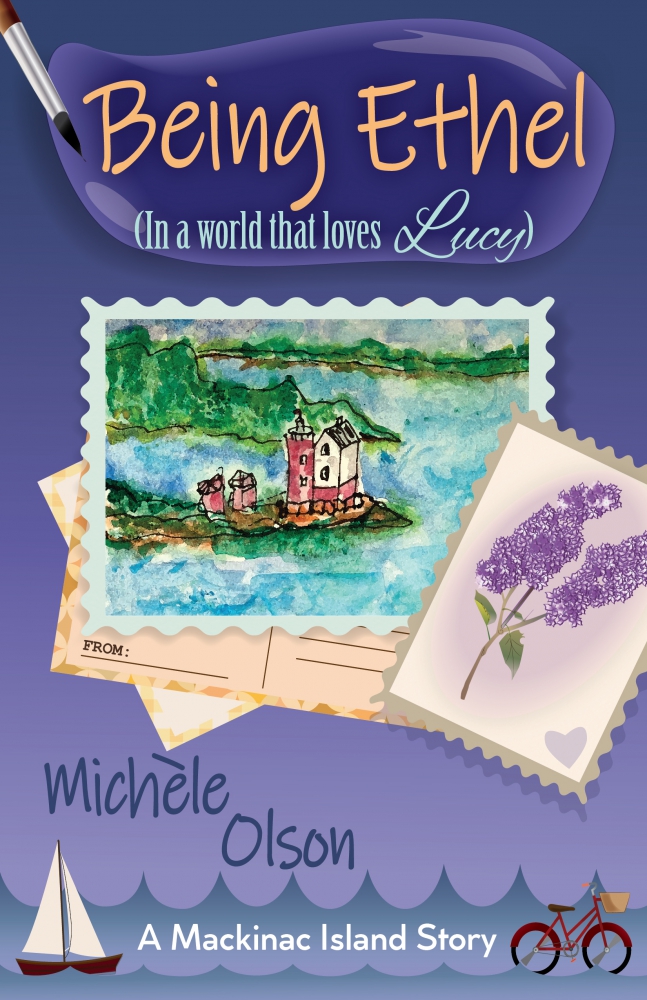 1979 is getting on Piper Penn's nerves. Struggling to survive past tragedies, she finds comfort in Old Hollywood movies in her native San Francisco. Seeing no reason to adhere to man-made rules after her first-hand look at the ultimate in hypocrisy, Piper does what she wants, and trouble follows.
An unexpected inheritance on a tiny Midwest island in the Straits of Mackinac provides an escape. The mandated stay at the island's glorious Grand Hotel gives her spirits a much-needed boost, especially when she catches the eye of a handsome groundskeeper.
When mysterious accusations and headstrong residents send her into a tailspin, she finds friendship from a quirky, I Love Lucy loving nun who challenges her embittered look at life and faith. Can Piper survive the baffling attempts to derail her inheritance before it's too late or has she fallen for a well-planned ruse while falling in love?
"What happens when you combine a love of Lucy, Nora Ephron, Old Hollywood, and the desire for true faith? You embark on an unforgettable 1979 journey to magical, Mackinac Island."
buy links: Free in Kindle Unlimited
https://www.lakegirlpublishing.com
https://www.amazon.com/Being-Ethel-world-that-loves/dp/1734362804
https://www.amazon.com/Being-Ethel-world-that-loves-ebook/dp/B083BTQ7K6
https://bookshop.org/shop/LakeGirlPublishing
https://www.facebook.com/lakegirlpublishing
https://twitter.com/MoDawnWriter
https://www.instagram.com/LakeGirlPublishing/
ABOUT MICHELE OLSON
Michele is a seasoned writer, broadcaster, voice pro, speaker, artist, and author with over 40 years of experience. With over 100 blog articles as a health writer, and the voice for countless commercials, videos, and voice-over projects, her focus is author and speaker based on Mackinac Island stories filled with mystery, romance, friendship, and faith.
The author of Being Ethel (In a world that loves Lucy) and Being Dorothy (In a world longing for home), she writes to Fuel Faith with Fiction as the main goal of her creative imprint-Lake Girl Publishing and LakeGirlPublishing.com.
Her message involves the common experience of being overlooked and playing the role of "Ethel" when the world treasures "Lucy". She shares the truth of being seen, valued, unique, and important for every person.
Being Ethel (In a world that loves Lucy) is a 5-star reviewed novel in eBook, paperback, and audiobook which has hit the top 100 on Amazon.
Along with her debut novel, her stand-alone sequel- Being Dorothy (In a world longing for home) is another 5-star reviewed novel being well-received in bookstores, libraries, and book clubs in eBook and paperback.
Michele is currently working on the third book in the Mackinac Island story series – Being Alice (In a world lost in the looking glass). A wife, mother to two adult children, a mother-in-love, and Gee Gee to two grandchildren, Michele enjoys connecting with readers in-person and through social media.
An interview with Michele on Writer CEO blog: Life Lessons from Forty-Five Years in the Writing Trenches! | WriterCEO.com A podcast interview with Michele by Sarah Hamaker on the Romantic Side of Suspense, the Beauty of Mackinac Island: https://lnns.co/BZntJpHgONE
For interviews, speaking events, book signings, or comment, contact Michele at:
info@lakegirlpublishing.com www.lakegirlpublishing.com
Visit her website to learn more about her books, hear her voice-over work, art, audiobook examples, and more!