PLEASE WELCOME
KATHY COLLARD MILLER
TO
ANYTHING GOES
Jesus stood and stared at the people amassing around Him. They almost pushed each other aside to get closer. Many of the people had come from a distance with great expectations that He would meet their needs.
But Jesus turned and walked away. Luke 5:15-16 describes the incident.
"Yet the news about him spread all the more, so that crowds of people came to hear him and to be healed of their sicknesses. But Jesus often withdrew to lonely places and prayed" (NIV).
In that moment, Jesus risked being misunderstood. People may have been thinking, "What kind of God would leave us behind when we've come so far to seek Him?" Jesus did not fear for the reputation of Himself or His Heavenly Father. His only concern was obedience to the Father.
When I fear I'm misunderstood, I struggle trusting God with my reputation, His reputation, how people view me, and what they might think and say about me—especially to others.
Although it may seem difficult to stop protecting ourselves from being misunderstood, we can diminish our stress through these ways.
Trust God
God can watch your back and He can watch His. Jesus trusted in God's sovereignty and power. He knew that His Father could call out from heaven and give the right perspective if He wanted. But Jesus didn't require it. Jesus was called to a higher priority of prayer and if that's what God wanted Him to do, then God would take care of the perceptions of the people.
You can't be in control of what others think
Even if you were to try to correct, explain, and apologize for everything you do and say, you still can't control what other people think and feel about you. They form opinions regardless of your great efforts to protect your image. God can be trusted to make any corrections He wants.
People who really care for you know your heart. Trust their care and concern for you by believing that they will call to your attention anything that is offensive or unclear.
Surrender your image to God
Can you surrender by saying, "Even if I'm seen in a negative way, Lord, you know the truth and that is all that matters? I'll trust you to bring up the situation if it needs correction"?
Some time ago I succumbed to worry about what I'd said to a friend. I just knew she must think of me as a terrible person. Unable to trust God, I called her back and apologized. She immediately replied, "What are you talking about? I don't even remember you saying that. And if you did, it didn't bother me at all." I was so relieved.
Are we still going to correct our words, apologize, and follow up on something we said at times? Absolutely. But not because we're fearful and protecting our image, but when God prompts us.
ABOUT GOD'S INTRIGUING QUESTIONS:60 NEW TESTAMENT DOVTIONS REVEALING JESUS'S NATURE
Have you ever wondered why God and Jesus asked questions of people as the Bible tells us He did? After all, God knows everything! He doesn't need information or help. Yet He asks over 300 questions throughout the Bible. Why? Two primary reasons: He wants the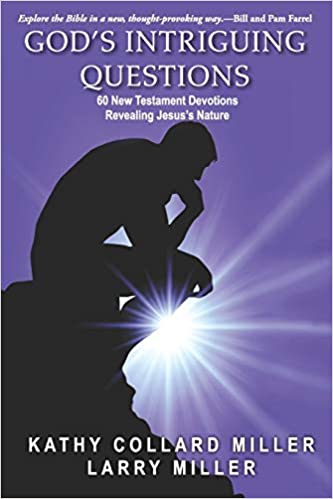 person or group He is interacting with to examine their hearts. And He wants to reveal His true nature. His questions prompt people to think through their beliefs about Him, life, and other people. Kathy and Larry co-authored this book and share fascinating insights, devotional thoughts, and personal stories intended to bring clarity to who God is and help you examine your own heart's motives.
Purchase link: https://www.amazon.com/Gods-Intriguing-Questions-Testament-Devotions/dp/1951970683/
Amazon Author page: https://www.amazon.com/Kathy-Collard-Miller/e/B001KMI10S?
ABOUT KATHY COLLARD MILLER
Kathy has been writing and speaking since 1980 and now has over 55 published books, along with a thousand blog posts, published articles, and guest posts. Her ministry began after God delivered her from being a child abuser when her daughter was a toddler in the late 1970s. God also healed her dysfunctional marriage with Larry, her high school sweetheart. Now, Kathy and Larry speak and write together, having recently celebrated 50 years of marriage. Larry is a retired police lieutenant from Huntington Beach Police Department in California. Kathy and Larry are parents of two, grandparents of two, and recently relocated to Boise, Idaho.
Website/blog: www.KathyCollardMiller.com
Facebook: www.facebook.com/KathyCollardMillerAuthor
Twitter: @KathyCMiller
Pinterest/Kathyspeak
Youtube: https://bit.ly/2SwiL03
Instagram: @kathycollardmiller