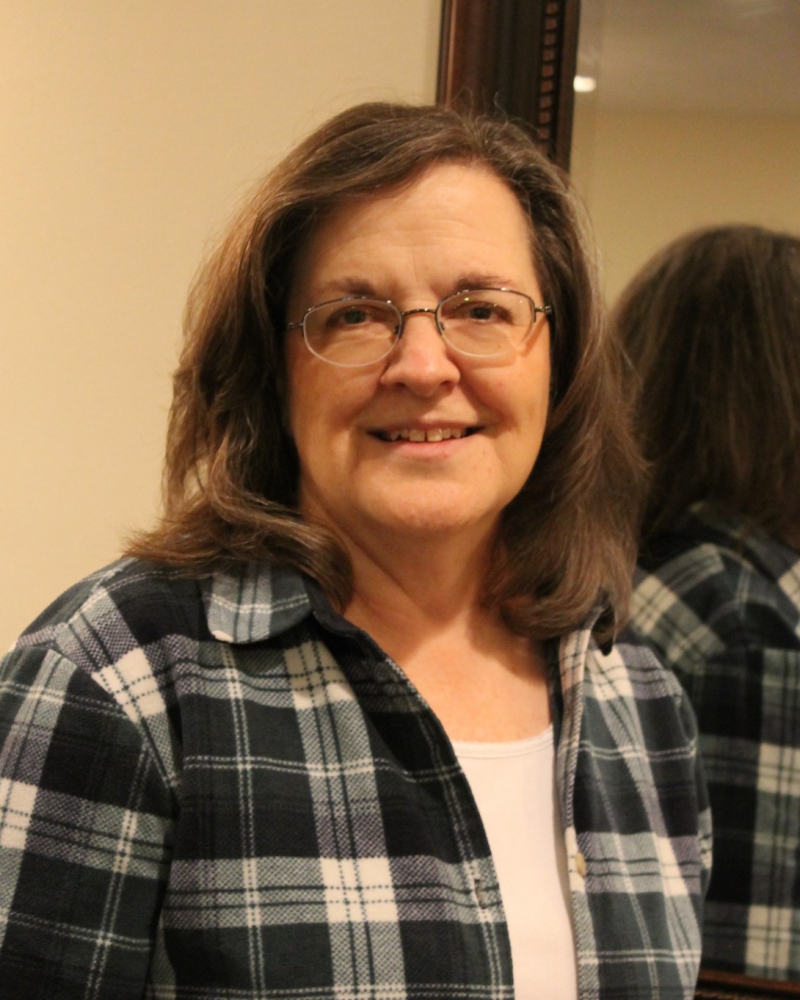 PLEASE WELCOME
CAROL NEMETH
TO
ANYTHING GOES TUESDAYS
It started out as a beautiful day for a horse patrol. My fellow park ranger and I headed up the trail eager for a day away from the campground. We were up on the mountain, however, when the weather drastically changed and a storm moved in. Heading back down, we attempted to keep the horses from running on the slippery path, but the closer to the barn, the more eager they were to return to their stalls where feed and hay awaited.
It was pouring as we descended, leaving nothing dry. The horses, our saddles, our clothing, everything. I could feel my feet squishing inside my hiking boots as they slid around inside the stirrups. It was a challenge to keep my backside in one place on the slippery leather saddle. Between my feet sliding in the stirrups and my seat slipping on the saddle, it was all I could do to stay on my patrol horse, Fargo. I tried several times to rein him in and keep him from running down the mountain too quickly. Slipping right off my saddle, I slid beneath him. I thought for sure I was a goner; certain I'd be trampled.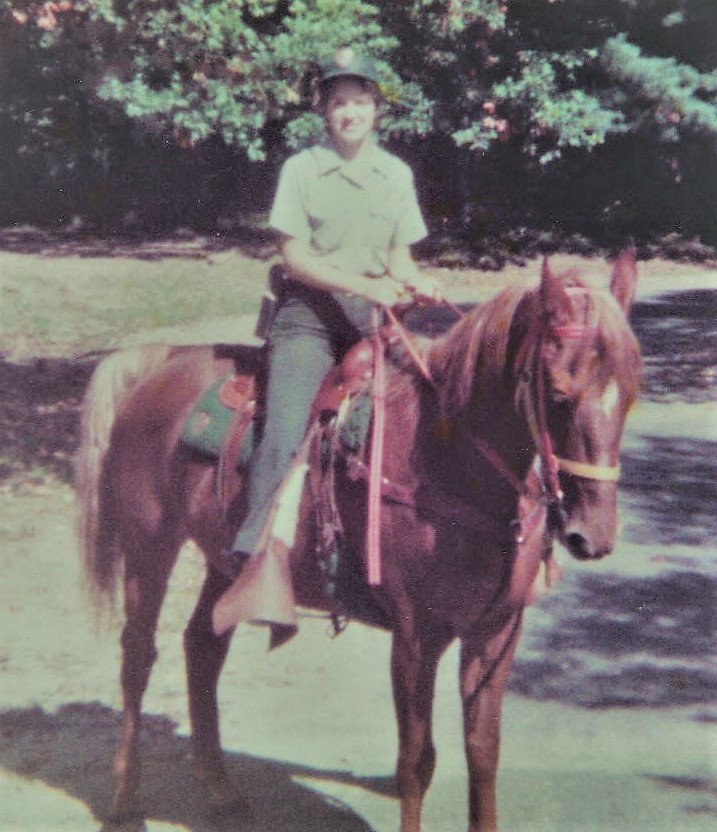 Fargo, for all his eagerness to get back to the barn, was a well-trained horse and had come to a complete stop before I hit the ground. He didn't move a muscle until my fellow ranger had pulled me from beneath him. I landed hard, mere inches from a rock that would have surely impacted my spine. Stepping in front of Fargo, I grabbed his reins and pulled his face close. His eyes huge, he knew he was in trouble. I spoke firmly, "We won't be doing that again, now will we?" Fargo shook his head and remained still as my fellow ranger helped me into the saddle. Fargo showed great restraint as we walked the rest of the way back to the barn in the rain.
I was in so much back pain, my supervisor sent me home. by the next day, I was in the hospital where I remained for a few days.
I rode Fargo before and again after, but never in such circumstances. We had come to an understanding. He pushed the limits, and I let him know who was boss.
Often, we as Christians allow sin to take us for a ride. We succumb then find ourselves in so deep our lives are filled with pain and anguish. We slip and slide through life, never gaining our footing or making headway for the One we should be living for. It's time to take the reins and give our lives fully to Christ. Do you know Him? Are you living fully for Him? Read Psalm 40:1-5 How encouraging!
*Many of the incidents in Mountain of Peril were from my personal experiences as a Park Aid in the Great Smoky Mountains National Park. I left this experience out, but one incident is based on it.
ABOUT J. CAROL NEMETH
A native North Carolinian, J. Carol Nemeth has always loved reading and enjoyed making up stories ever since junior high school, most based in the places she has lived or traveled to. She worked in the National Park Service as a Park Aid and served in the US Army where she was stationed in Italy, traveling to over thirteen countries while there. She met the love of her life, Mark Nemeth, also an Army veteran, while stationed in Italy. After they married, they lived in various locations, including North Yorkshire, England. They now live in West Virginia, where, in their spare time, Carol and Mark enjoy RVing, sightseeing, and are active in their church. They have a son, Matt, who serves active duty in the Army and a daughter, Jennifer, her husband Flint, who serves active duty in the Air Force, and their three grandchildren, Martin, Ava, and Gage. Their four-footed kid Holly, a black Lab, is pretty special too. Mark and Carol love traveling in their RV, and when they pack up to go, Holly is waiting inside for them to head out. Carol is a member of ACFW.
Social Media
www.facebook.com/J.CarolNemeth
https://twitter.com/nemeth_jcarol
Amazon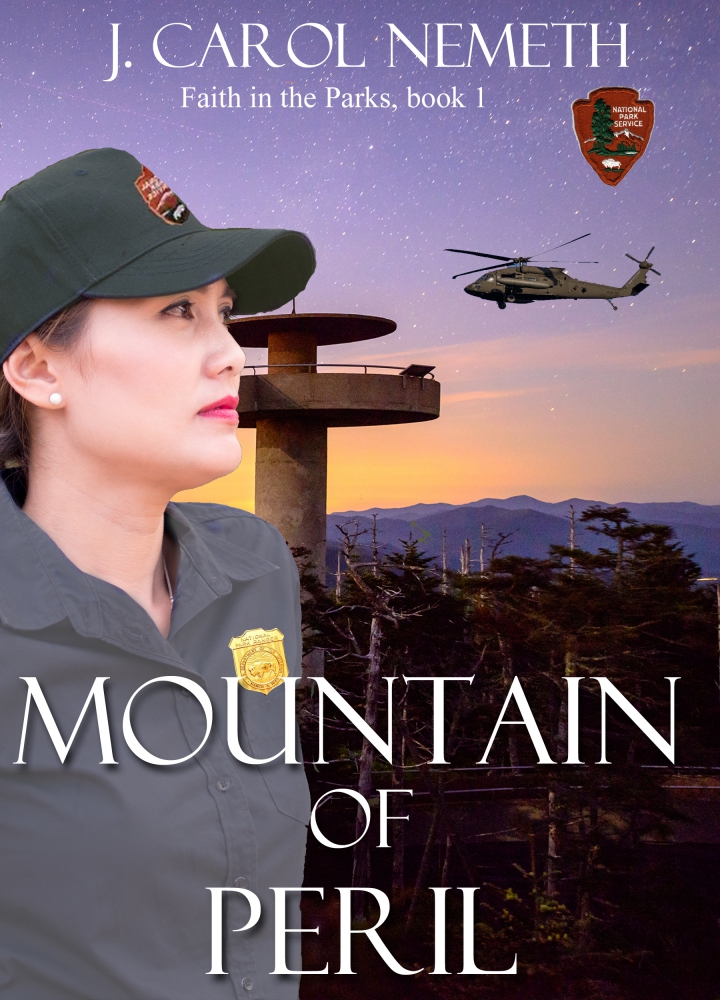 https://www.amazon.com/J.-Carol-Nemeth/e/B01F45LWY8/ref=sr_ntt_srch_lnk_1?qid=1485890302&sr=8-1
ABOUT MOUNTAIN OF PERIL
When Molly Walker graduated from college, she was thrilled to be hired on as a ranger at Deep Creek Campground in the Great Smoky Mountains National Park. She arrived ready to begin her career and to enjoy all the aspects of her new job, but the one thing she hadn't counted on was the local poachers and their illegal shenanigans. Molly and fellow ranger Jake Stuart try to put a stop to the escalating poaching problem while protecting the animals. In the meantime, Molly finds that the handsome ranger, who is also a local, is a great partner to have on her side. She also finds that she's losing her heart to him when she'd planned to stay focused on her career. Can she give her heart and have a career? She and Jake find themselves in a battle against a group of men with a hidden agenda far more sinister than poaching. Can they be stopped before Molly's life is snuffed out?
Buy Link https://amzn.to/2MBoIIF