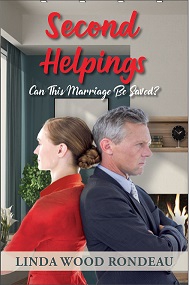 CAN THIS MARRIAGE BE SAVED?
EXCERPT FROM SECOND HELPINGS
Chapter One
"Happy Birthday," my husband says, dressed for peak efficiency in his dark brown sport coat, yellow oxford shirt, and paisley tie … not rich-looking enough to upset his clients but sufficiently stylish to impress the blue-collar working man. He hands me my morning coffee.
For twenty-two years, Larsen has handed me my coffee, complete with his poster-boy calendar grin, too preppy for Abercrombie & Fitch but perfect for the Businessman's Fashion Model of the Year. His smile rarely changes, much like the man himself. He even has the same haircut as the day we met at Bridget Tooley's wedding. I suppose any man looks like a movie star in a rented tuxedo.
Larsen hands me the card Jordan made yesterday since his bedtime came before my party last night. Jordan is our afterthought. Larsen didn't want more than four children. After Link was born, Larsen set up a long-term financial plan to make certain each child had sufficient higher-education funds. When Jordan came along, all our carefully crafted ambitions went haywire, including my run for a doctorate, the one area I'd hoped would put me on an equal footing with Larsen.
I glance at Jordan's handiwork. The card features a drawing of a silver police badge with a three-inch "45" printed in bold red. I trace over the numbers in Jordan's typical backward scrawl. That much he had done himself. For the badge portion of the drawing, he most likely had been helped by his older brother, Link. I recognize the graphic artistry of my second oldest son.
Only three—well, almost four—Jordan can write most of the alphabet. And, of course, Larsen takes the credit for Jordan's precociousness, reminding all his doctor friends that Miriam Foster's three-year-old can barely count.
I hug the badge to my chest. Full of pride, I raise myself up in bed. My life might be in the toilet, but my three-year-old can draw numbers.
Larsen stands by our bed, still wearing his standardized smile. He takes Jordan's card and places it on my dresser as he hands his card to me. I already know what it says. Something like, "Happy Birthday to a wonderful wife and mother." I slip the card from the envelope, but I don't read every word. The predictability saddens me. Today, I refuse to play the game. I close the card and say nothing instead of the expected sugary sweet lie, "Darling, you're the most wonderful husband in the world."
His secretary, Nancy Jenkins, thinks he is as close to a deity as a man can get. Maybe she should be married to him instead of me. Larsen wears his professional outfits like a tunic for all the world to see, as if he were a psychiatric demi-god. His exterior trappings shout, "I heal minds. And I'm a nice guy too. Who wouldn't want a husband like me—an admirable sort, a man who goes out of his way to buy groceries for our ninety-two-year-old neighbor?"
Just not me … not right now.
I force myself to give him a peck on the cheek. I can give him that much. "Thanks for the coffee. Kids up yet?"
Larsen takes his card and props it on the dresser next to Jordan's. "Lance is in the shower, and Louise is putting on her makeup. That should take her about half an hour. Jordan is still asleep, and Link is at the computer in his room, probably drafting his next graphic novel. After I bring Link to school, I can take Jordan to daycare. That way you can relax today."
As if I could relax. Not with the plans I have … plans outside of work.
"Don't bother. I can't relax … I have a live radio show this morning and afternoon. My listeners count on me."
"Ah, yes. And what will Java with Jocelyn serve up today for the unsuspecting mother?"
Larsen has never taken my radio show seriously. "A daily show for desperate moms," he says. Granted, my broadcast is local and only one day a week. Hardly the syndicated popularity of a caustic news show, though we provide a controversial punchline every once in a while and do try to inject current events relative to parenting. And though Derrick and I have only been on the air for two years, I happen to think we help people just as much as Larsen does. I might not counsel the criminally insane or run a thriving practice helping neurotics turn their lives around, but my listeners comment the guests we choose and the books we recommend have saved them from falling off the precipice of a parental panic attack.
Larsen rubs my elbow. "If you believe you're helping people, Jocelyn, then keep telling yourself that."
Must he always edge his comments about my work with near ridicule?
"I should get my column done for The Town Crier. Besides, we have a great guest today. Councilman Byrnes is talking about his reelection campaign. He's running on a family values agenda. The world doesn't stop revolving because I have a birthday, you know."
Larsen's expression freezes in an eternal, placating smile. How does he manage to stay placid through my sarcasm? The Lord knows I have some pretty heavy artillery in my arsenal. Yet my arrows of cynicism fail to penetrate his armor of steeled calm. When I found out I was pregnant for the fifth time, I foolishly worried Larsen would slam his coffee cup on the counter.
I gave Larsen no delicate intro to the news. Merely, "Get the crib out of storage. There's another Johnson on the way."
He mustered his signature smile and said, "We'll need to make some adjustments, but we'll be fine."
Adjustments? That's what a baby is—an adjustment? Sometimes, just once, I'd like to see a volcanic eruption, not his forever-a-Jacuzzi-at-rest reaction to life's foibles.
"Jocelyn, I'm sure WKSL could manage without you for one afternoon."
Yes, they could manage without me for a lifetime. The question is can I manage without them?
He sits on the bed while he downs his first cup of coffee. Every morning, I have propped myself up in bed, and Larsen has sat next to me while we sip our mutual cups of coffee. A ten-minute, plan-our-day ritual come hell or high water and no matter what kid was stealing what toy from the other. Eventually, the children learned our morning coffee klatches were not to be intruded upon. Not that they haven't tried to sabotage our morning time with a catalog of manipulations. I almost caved the first time Lisette knocked on our door and cried, "Mommy, I can't find Mr. Snuggles."
Not Larsen—not unless blood was involved. And certainly not for a teddy bear that was MIA.
He determined to set the boundaries from the beginning. He gently pushed me back against the pillows. "Ignore her. She's been told to stay in her room and play. She'll go back when she realizes she won't succeed in her maniacal plan to come between us."
I gurgled my resistance. "A toddler's quest to find her favorite teddy bear is hardly a maniacal plot."
My logic fell on deaf ears, and Larsen had his way in that episode as he's had his way in most everything else in our twenty-two years together.
Although, Lisette did stop crying within minutes. And, other than a trail of toasted oats from the kitchen to her bedroom, she didn't get into one iota of mischief. When I went to check on her, she and Mr. Snuggles were enjoying breakfast with her china play set.
Today, I'm the one with the maniacal plot to break routine.
I know what his day will be, and I don't want to tell him what my day will bring. I sigh, then throw the covers back and swing my feet to the floor.
Larsen calls my frequent sighs despondency. If he had his way, I'd be on four different antidepressants. "I understand why you might be depressed, Jocelyn," Larsen says.
Here we go again. He can't get through a half hour in the same room with me without analyzing my emotional shortcomings, which in his physician's desk reference are multitudinous.
"I'm not depressed," I tell him. "I'm forty-five today. There's a difference."
He pats my hand. "Nonsense. When I turned forty-five, you didn't see me sitting in a chair devouring a bag of chips."
"That's not fair. Chowing down a bag of chips at a party hardly equates to an emotional breakdown, Sigmund. Sometimes a bag of chips is simply a bag of chips."
I examine him for some sort of reaction. I did just insult his professionalism.
No. Not even a twitch.
"Well, why not try something new—something exciting. When I turned forty-five, I ran a marathon. Remember?"
I remember all too well. The whole household rearranged itself while Larsen trained for six months. He got muscular, and I gained thirty pounds from all the pasta. The man can solve the New York Times Sunday Word Puzzle in ten minutes but can't put a pot of water on to boil spaghetti. Since I didn't want to cook two meals, we ate what Larsen ate.
"I'm not running a marathon, Larsen. I'll find some other way to slip into the second half of this ghastly decade."
"Why not take an art class?"
Does the man know me at all? Or has he fashioned an idea of me based on twenty-two years of skewed observation. "Me? I can't draw a circle let alone a landscape. What makes you think I'd be interested in art?"
"Mercy Sterling took an art class when she turned forty-five."
My cheeks heat with the mention of Larsen's coworker at the clinic, an exhibitionist if I diagnosed her. How else do you describe a woman who dons a naked suit and poses as Lady Godiva for an all-male art class? Seriously … the woman is desperate for attention in my book.
I gulp down the rest of my coffee and stand, my flannel pajamas bearing the evidence of a dribble or two. Larsen wastes no time in pointing out the mishap. "I've heard if you pour boiling water on the stain, it'll come right out."
I take a deep breath. "I've done laundry for all our married life, and I've cleaned up my share of grape juice stains. I think I can handle a couple of coffee spots. When did you become Mr. Homemaker?"
Larsen had never taken an interest in housework of any kind. Home engineering is the one area where I shine. Most of the time. When I'm not distracted by a bag of potato chips. Larsen has never witnessed the delicate scheduling of daily routine to keep a home less lived-in and more company-ready. I finish these chores by the time he comes home from work. Last month, Larsen came home early, right after I'd fed Jordan his lunch and was putting him down for a nap. I hadn't had the time to clean up from breakfast yet. As I came back downstairs, I saw Larsen step into a glob of spilled, soggy cereal.
On those rare days when disorder reigns, he never criticizes … at least not blatantly. Instead, he spouts off what he believes are helpful ideas. Larsen's condemnations ride on the hem of his civility. On that day, after wiping the glop from his shoe, he put his coat back on and left with the soft-spoken announcement, "I think I forgot something at the office." When he returned two hours later, he went immediately to the offending spot, bent over and tested the floor before completing his journey to the counter, where he aligned his briefcase perpendicular to the coffeepot. "The house looks very nice, Jocelyn."
I harrumphed a tired, "Thank you."
I take another deep breath. "I suppose I should get busy with cleanup from last night's party."
Larsen beams with pride. "Louise cleaned up after you went to bed so you wouldn't have to face a mess first thing in the morning." I wonder how much he bribed her so he wouldn't have to manage the aftermath.
The landline rings.
Larsen answers from the bedroom extension.
I gave up answering the phone years ago. Whenever I would answer it, Larsen would hover near me, demanding to know who had called and what they wanted. Larsen believes it's his patriarchal duty to screen all the phone calls coming into the house. He finally allowed cell phones only last year. Lance and Louise make certain their friends use their cell number or call the house when their father's not home, and I tell my friends to call me at work. I did finally buy a smartphone, though I find all the bells and whistles almost irritating. Too many apps and not enough brain memory to manage all the options efficiently.
"Johnson Residence," he says. "Good morning." Slight hesitation. "Jocelyn? Just a minute. I'll see if she's available to talk." Which is Larsen's way of deciding for me if I should take the call.
"Who is it?" I ask.
"Jeff. Maybe I should tell him you'll call him back later."
Jeff is the station manager. "No. I'll talk to him now." Really. Why does Larsen even suggest I might not want to take Jeff's call? Like Larsen would ever refuse to speak to the warden where he counsels inmates.
"Good morning," I say in as cheerful a tone as I can muster on a Monday morning.
"Happy birthday. Hope you enjoyed your party last night."
"I did." A fib. I spent most of the night avoiding my friends while I chowed down a big bag of potato chips. Like the ad says, you can't eat just one. I had told Larsen I didn't want a party. I'd have settled for a movie of my choice and popcorn.
"You're not going to like what I've got to tell you." So typical of Jeff. He never sugarcoats his bad news or preludes disaster with song. Right to the poop of the matter.
"Go ahead."
"Derrick just called me. Your guest, Councilman Brynes, cancelled. Derrick's working on a replacement now. An author of sorts, I guess. A Dr. Hartley. Derrick asked me to call you and give you fair warning, so you'd have a chance to cool down by the time you get to the station."
As if I'd ever be mad at Derrick. The man brings sunlight into every dreary day. Although he does have a penchant to throw out unanswerable questions to our guests. "I'll be there as soon as I can. Derrick and authors don't mix on a live show. I won't have enough time to read the book, either. We'll have to wing it. What's the name of the book?"
"Second Helpings."
"Sounds like a cookbook, not parenting advice."
"No. The book isn't really about parenting. More like a memoir. It's listed on Amazon under inspirational nonfiction."
"We'll manage somehow." I disconnect, pick up Jordan's card with the badge drawing, then head for the kitchen to grab leftover birthday cake. Larsen trails behind me. I cut a two-serving piece and slap it onto a dinner plate. Larsen scowls. Rather than correct me, he eyes my plate and says, "Maybe you'll want to follow that up with some Bran Flakes."
I gather my hair at the base of my neck and slide it over my shoulder. "My plumbing is fine, thank you very much."
He drains a second cup of coffee, squeezes a dot of dish detergent into the cup, rinses, dries it, then puts it back into the cupboard, ignoring last night's stack of dirty dishes Louise must have thought unimportant in her assessment of what constitutes picking up the kitchen. "I'll be home by five."
Larsen has changed his schedule?
"I cancelled my last appointment. Where would you like to go for dinner?"
I trace the border of Jordan's drawing, then set it down beside the list of forty-five promises from Link and Louise I'd left on the kitchen counter, intending to clip the list to the refrigerator. They had pasted their vows onto a poster bordered with phony dollar bills and forty-five jellybeans. Every "I will" worded to convince me they'd be on their best behavior. And they probably thought they could last a week or two. I'll settle for two hours.
I hear Louise's shrieks from the top of the stairs.
At least I had fifteen minutes.
She shrills her command. "Mom! Link has my diary! Make him give it back."
I don't blame Link. I'd like to see that diary for myself. Although, I can't imagine what use Link would have for Louise's diary … unless he wants to torment her by posting her private thoughts onto one of his websites or read her intimate thoughts on his new podcast program, Life with Louise—The Tortured Life of a Younger Brother.
I blow a raspberry of disdain, then yell up the stairs. "I'll get it back." A girl's private thoughts should be just that.
I barge into Link's room without an invitation. Louise's diary is splayed open on his unmade bed, her Goth self prominently viewed on his computer, complete with a balloon caption quote from her diary. "Little brothers are like pimples, better to drain their annoying pus."
I rescue Loise's diary from his bed. "Lincoln Johnson, you have no right to steal your sister's private thoughts for your amusement."
"It's just a joke."
Link's objections are as predictable as his father's smile.
"You take down that picture of Louise from the internet, or I'll put your naked baby picture up on your most popular social media place. Or maybe I'll start my own podcast … How to Torture Your Kids."
He glances up at me, probably not certain if I'll carry out my threat or not. I'm not sure myself. But I have started a blog for moms.
"Fine." He hits a few buttons, and Louise's uncomplimentary photo disappears. I won't know for sure he has deleted the offending image until I check his websites. Of course, he has so many and changes so often, I have to use the search button to find them. And he uses aliases. How am I supposed to supervise such an ingenious scoundrel? I think if I invent a parent bot, I could make a mint.
Link slams his computer shut. "She hates me … I'm just paying her back." His lower lip is so low, I'm afraid he'll trip over it and break his leg. "Of course, you'd take her side. Girls stick together you know."
I only wish. "No, I don't know. I do know your sister's thoughts are hers and hers alone. If you try a stunt like that again, you're grounded for a week. Got it?"
He laughs. "Seriously? A week?"
I growl and shut his door with a loud crash as I realize shutting Link away in his room is a reward, not a punishment. The threat always works well for Lance, but Link wouldn't go outside to see a nuclear explosion. Not without his iPhone. Larsen can sometimes pry him out with an offer of a Masters of the Universe movie or a Comicon show and the occasional round of golf. Are there any bribes I could use for Link to spend an afternoon with his mother?
I go to Jordan's room next. I gently stroke his cheek to wake him.
"Happy Birthday, Mommy."
"Thank you, sweetheart. I love the card you made for me."
"Daddy said you were sad to be forty-five. That's why I wanted you to have a badge of honor. You should be proud, not sad."
I rub his head. "How did you get to be so smart for a three-year-old?"
"I'm almost four." He jumps out of bed and throws his arms around me.
"I'm not sad about turning forty-five. But I am sad to see you grow up so fast. Seems like yesterday you were still a baby."
Jordan picks up his favorite tractor and runs it back and forth on his alphabet carpet. "I was a baby yesterday, don't you remember? I cried because my sandwich didn't have all the sides cut off. Daddy told me to quit acting like a baby. But I won't cry today because it's your birthday."
Best present ever.
I hand Jordan his clothes. "Put your truck away. Time to get ready for daycare."
I go back into my bedroom to shower and dress. I feel like wearing red today, my power color. I always wear red when I'm feeling like I'm losing the war against life. Today, however, I have a different reason. Derrick says I'm knockout gorgeous in red.
more info about LINDA WOOD RONDEAU
5-STAR REVIEW COMMENT:
What an eye-opening book! So many times we take things for granted in our lives (whether married or not) but this book will remind you that we are so blessed in many ways and most of all with our families and God. Author Linda Rondeau strikes a true note of reality when she pens the problems in a modern family. Misunderstandings, rebellious young people who are trying to find their way, temptations, and more are prominent in this tale. But that's not the least of it. The reader will smile at the mistakes, laugh out loud at some of the antics of the young people, and the take the mother has to them.

Amidst all of this is a ray of light that opens this family's hearts. You'll not go wrong by giving this book a read. Recommended highly!