PLEASE WELCOME
SALLY JO PITTS
TO
HAVING THE PRIME OF MY LIFE
Have you heard of blue zones?
These are regions of the world where evidence shows people live much longer than average. The term first appeared in his November 2005 National Geographic magazine cover story, "The Secrets of a Long Life."
One of the Secrets discovered is purpose.
In Okinawa, they don't have a word for retirement but do have the word ikigai which means "why I wake up in the morning." People think of themselves as being useful into their 90s and even 100s.
In Costa Rica, they use the phrase plan de vida or life plan.
In blue zones, the older you get, the more revered you are. Instead of encouraging you to put up your feet when you turn 65, you are honored for your wisdom and made to feel needed.
What can we learn from this blue zone philosophy?
Take advantage of the opportunities around you NOW.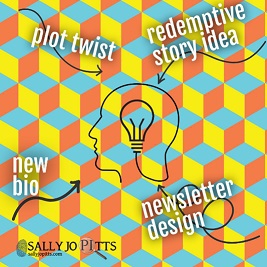 Pixabay Free Image
New days of hope
Plus
Old days of retrospect
Weave the fabric of purpose for today
The blue zone idea captivated me, so I'm using the philosophy of remaining useful and not retiring in my WIP mystery book, Spring Betrayal. It will be book #3 in a four book Mystery of Seasons series: #1 Autumn Vindication, available now, #2 Winter Deception, available for preorder soon, book #4 will be available, spring 2021. Other books can be found at:
https://www.amazon.com/s?k=Sally+Jo+Pitts&i=stripbooks&ref=nb_sb_noss_2
ABOUT SALLY JO PITTS
About the author: Sally Jo Pitts writes what she likes to read—faith-based stories with an unusual twist. She has had a career in private investigation, lie detection, high school guidance counseling and taught for over twenty years. Now, she brings her experience in affairs of the heart to the fiction page to inspire and encourage readers. She resides in the Panhandle of Florida with her feisty schnauzer, Gibbs. You can visit her at www.sallyjopitts.com