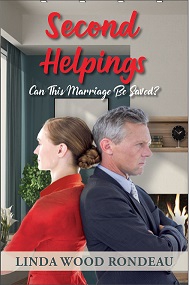 TODAY
ON
FICTION FRIDAY
EXCERPT FROM SECOND HELPINGS
CHAPTER TWO
Dressed, I rejoin Larsen in the kitchen. He takes a last swallow of his morning oatmeal. Larsen may not like to cook, but at least he makes his own breakfast. Every morning. Oatmeal and toast with a few slices of apple.
I'd like him to look up from his bowl and notice I'm wearing red today. Perhaps if he noticed my clothes as much as he notices my weight, I wouldn't feel like meeting Derrick for lunch today.
I hear two sequential car horn blasts and look out the window—Lance's friend Bart in his black pickup. Larsen turns the page on the newspaper. At least he has spared me his usual commentary that men drive trucks to compensate for a diminished male ego.
Derrick drives a truck, and there's nothing he needs to compensate for.
Probably the only people who pay attention to the size of a car are psychiatrists. Maybe Larsen's the one overcompensating …. diagnosing others, a way to rise above his own insecurity.
Lance waltzes into the kitchen and grabs a donut.
I squeeze my face into a scowl. "Lance, that's not a good breakfast."
He glances at my cake plate, shrugs his shoulders in a Larsen-like dismissal, heaves his backpack over his shoulders, and heads out the door.
Up until a few years ago, Lance never left the house without a hug from his mother. My brother stopped hugging my mother when he was twelve, the age Larsen says most boys drift away from matriarchal influence and prefer to emulate their fathers. I bite my lip at the thought. Did I want Lance to be more like Larsen or more like me?
I miss Lance's hugs as much as I miss long walks in the park with Larsen. Seemed both ended about the time Jordan was born.
I sigh. Larsen gives me a paternal smile, probably meant to console. Recognition I was in the kitchen at least. Perhaps he notices the shadow of disappointment in my eyes, even if he isn't the least bit curious why I'm wearing a red blouse. "Don't worry about the way Lance distances himself. Just part of what I call Adolescent Separation Syndrome. Children must naturally start becoming more isolated from their parents to prepare for adulthood, especially as they near college. Kids unable to do this will have separation anxiety. Take the indifference as a sign we've done our job."
Larsen's diatribe could have been summed up simply as, "Perfectly normal."
"I know. I read parenting books, remember?"
Still, I'll never like the idea my son has become a stranger. I envy Larsen for the Saturday morning golf matches he shares with Lance. Why do boys have to grow up and give mothers token affection—a card and maybe flowers on birthdays and Mother's Day? Maybe if I learn to swing a golf club instead of criticism …
"Is he this non-talkative when you golf?"
Larsen snickers. "Men don't jabber on the course, Jocelyn. You worry too much. I didn't talk to either of my parents when I was Lance's age."
Now I worry all the more. Does this mean my once cuddly son will grow up to be another Larsen in my life—another Pluto to my Mercury—so emotionally distanced my heart freezes before I can reach him?
Larsen slings his laptop bag over his shoulder. "Like I said, Lance is just going through a phase. It'll pass."
Twenty–one years of parenting and nearly every day a circus, Larsen catalogs every annoying childhood habit as this phase or that. Did anything stir rage or passion in the man anymore?
There is a lake near my parents' house … inland from the turbulent ocean breezes. As a child, I sat near the placid waters, disturbing the calm by skipping stones. Yet, during an on-coming tropical storm, I often found insane comfort when I strolled along the boardwalk and watched the rough waves incessantly pound against the wooden structure. I liked the variety of scenes, going from lake to ocean front. I could only take so much placid before I ambled toward the boardwalk. Likewise, after the storm, I enjoyed the serenity of the ebb and flow of happy waves.
I supposed Larsen was my calm waters. Derrick, my stormy seas.
"Seems like the kids are forever going through this phase or that, Larsen. When will life be normal?"
He stares at me with his blue eyes, the eyes that seduced me into his bed during my second semester of grad school and gave me Lisette, put me into motherhood before my clock was ready. Tick-tock … tick-tock, the cradle rocked, and maternal winds uprooted every ambition of my life.
Larsen smiles. Well, actually he hasn't stopped smiling this morning, only varying the length and dimensions of his grin, from pasted to false pleasantness, to a sincere offering of amusement, then to infuriating patronizing smirks … but always some measure of lip separation. "Normal is a phony expectation, Jocelyn. Expecting normal only leads to a sense of failure when we can't achieve what we perceive is normal. I tell my patients to bless each new day when it arrives…"
If Larsen weren't a near atheist, he could be the next Billy Graham. Something spiritually condemning in his counsel.
Link comes downstairs, his busy fingers texting his friends. Without looking up from his phone—as deft as if he had a third hand—he pours a glass of milk, gulps it down, then shoves a banana in his backpack. "I'll eat this in the car while I'm waiting for you." I can only assume the last was meant for his father. At least Link lets the door thud when he leaves.
I cast Larsen a helpless glance. "Why can't you manage to have Link's phone meet with an accident on the way to school?"
"Don't worry, it's just—"
"A phase."
Larsen kisses me on the cheek and shuts the door with a rhythm calculated to give off a minimum amount of noise. He's so quiet, I rarely hear him come in at night. He's just as quiet when he rolls into bed. I would never know he's beside me if nature didn't wake me in the middle of the night. When I glance to his side of the bed, most of the time he's there. Sometimes he's not. I see a faint glow from downstairs emanating from his academic man cave. I don't bother to check. I think of how bland our marriage has become, like unsalted scrambled eggs.
He doesn't wake me for sex anymore. I try to remember the last time we were intimate. I can count on one hand how often we made love since Jordan was born. Either Larsen has lost interest or maybe I have … with him, anyway. Those rare times I do get in the mood, Larsen seems to make up some excuse to leave the bedroom until after I'm asleep. When he's interested, I make about a dozen phone calls, long enough for him to get refocused on a Raiders game or a rerun of Psycho.
Mourning my static marriage is interrupted as Louise clomps downstairs and bolts into the kitchen … she did not get the Johnson gene for quietness. One always knows when she's in the room. I pour another cup of coffee and glance for a quick inspection … old habits hard to break as my children advance from grade school to high school. Louise used to have long, curly blonde hair. Today it's pink and chopped off above the ears on one side and falls over her shoulders on the other. She's dressed in all black: slacks and a long sweater over a tank top. Her eyes seem to bulge from her face, the impact of thickly applied eye liner. She has beautiful blue eyes like Larson, hardly needing accentuation. I want to yank out three of her four pairs of earrings along with the two body piercing studs in her nose.
I remember our Saturday afternoon shopping trips after Larsen came back from playing golf. Louise loved clothes and had asked to take modeling classes. I thought she should. Larson put his foot down with no room for argument. "No daughter of mine will be meat for exterior phoniness." Did he forget Louise was my daughter too?
After that, Louise ironed her hair then saved up her allowance and straightened her hair. Now she has a color of the month, never letting on what it will be, just shows up from the hairdresser. For the last six months she's bounced from green, to purple, to blue, to pink, back to green and then purple and now apparently pink again. I worry one of these days she'll come home with bright orange.
"Dante is picking me up this morning," she says as she swoops up a granola bar.
I recognize Darin's Goth name. "What happened to Braxton?" I asked refusing to use the boy's moniker.
"Oh, Virgil and I broke up a couple of weeks ago. I'm with Dante now. Virgil and I are still friends … I just … well…" Louise looks at the floor.
"Well what, Louise?"
"Never mind. I told you. I don't go by Louise anymore. The kids at school call me Vixen."
"You can call yourself any name you want to, young lady, but to your father and me you will always be Louise."
"S###!" Louise slams the door with all the forcefulness Larsen avoids.
I wonder if she realizes how grating her swearing has become. Some of my guests have remarked concern over the increasing use of foul language among teens these days. As if they are desensitized to obscenity.
Shirt on backwards and holding his pants in front of him, Jordan runs into the kitchen. "I need help."
One out five that still needs his mother. I help Jordan on with his pants and turn his shirt so the collar faces forward instead of toward the back of his neck. I take the moment to swoop him into a hug, grateful he doesn't resist. I give him a kiss on the forehead before I let go. "Now go back to your room and finish getting ready."
My cell rings as Jordan dashes toward his room, hands outstretched like Superman to the rescue.
Lisette. I click accept.
"Hello, Mother. Happy birthday." She sounds too cheerful … a theatrical tone underneath her greeting. I sit, hoping she'll stay on the line for more than her usual two minutes.
"Thank you, sweetie, but you called me last night."
"Nothing wrong with wishing you a happy birthday twice, is there?"
Was she stalling?
"Um … what're you going to do today? Something fun, I hope."
"Nothing special. Your father and I might go out to dinner later."
"How was the party?"
"I finished off a bag of chips all by myself."
"Mom! Carbs!"
My mind wanders as Lisette rips off a Larsen-like lecture on the dangers of too many carbs. I wonder if there is anything of me in my children. I glance at Louise's picture … rebellion personified. I see me in her Goth coverings. Not that I ever wore black. But every time my parents grounded me, I snuck out my window … always looking for danger … always flirting with disaster. Was that what I was doing with Derrick?
Jordan comes back out. "All dressed now." He climbs up on my lap and gives me a hug. How long before he can barely tolerate being in the same room as me?
I return my attention to Lisette. "Lisette, is there another reason you called, besides policing my food intake?" I chide myself for being sarcastic. Since Lisette went off to college her phone calls were rarer than a warm day in January. I should be thrilled to have two in one week.
Her cheerful tone mutates. "Guess there's no other way to tell you than straight out."
I inwardly gasp, tensing for the anticipated bombshell. "Tell me what?"
"I'm coming home. My summer plans have changed. I'll be there this evening. I'm not going back in the fall."
ABOUT SECOND HELPINGS
Today is Jocelyn Johnson's 45th birthday. Unhappy with her marriage of 22 years, the parenting talk show host has planned a noonday tryst with her cohost. A phone call from her college daughter, a peek into her teenaged son's journal, a sick preschooler, a Goth daughter's identity crisis, a middle-school son's prank, and her husband's inflamed suspicions, not only interfere with her hopeful birthday plans but throw her family into more chaos than a circus on steroids.
In desperate need of counsel, Jocelyn invites a Christian to dinner, her guest from her morning talk show segment. However, the evening holds little promise of calm. In the midst of bedlam, a forgotten faith rekindles causing Jocelyn to rethink her life and her marriage.
You will laugh and you will cry from the first page to the last as you journey through the day's events and Jocelyn's search for Second Helpings.
Buy Link: https://www.amazon.com/Second-Helpings-Humorous-Contemporary-Novel-ebook/dp/B087C744HZ/ e book
https://www.amazon.com/Second-Helpings-Humorous-Contemporary-Novel/dp/195197042X/
print
Social Media Links
Facebook https://www.facebook.com/lindawoodrondeau/
Instagram https://www.instagram.com/authorlindawoodrondeau/
Twitter https://twitter.com/lwrondeau
Pinterest https://www.pinterest.com/lwrondeau/pins/