Photo by Adi Goldstein on Unsplash
BY LINDA WOOD RONDEAU
REPRINTED FROM 2007
Thoughts About the Movie Up
a Disney Animated Film
We rehashed the movie over Dairy Queen ice-cream cones. "Terrific movie," I said. My husband and I both thought the movie a rich and rewarding experience. "Pretty deep as animated movies go," he said.
Kids will enjoy the comedic aspects such as Kevin's love of chocolate and Russell's ambition to help an elderly person—but the meat of the story is far more than a bird or an eleven-year-old's search to earn a merit badge.
"You didn't see the note, in the album, did you?" my husband asked, his eyes filled with tears. "It said, 'Thanks for the Adventure." He held my hand, and we thanked God for our years of never-ending changes. For when life takes a turn we hadn't expected, he would smile and say, "The adventure continues."
What is an adventure? Dictionary.com lists one of its definitions as: a bold, usually risky undertaking; hazardous action of uncertain outcome. Rarely does life unfold the way we envision. A young couple has a romanticized concept of what their lives will be like. Parents dream big dreams for their children. When we begin a new job, buy a house, or embark on any twist to our lives, we draw mental pictures of the outcomes.
All too often, though, when the picture we painted washes out with the rains of challenges that come our way, we think God has played a cruel joke on us. We wonder if our faith was weak. Where did we go wrong in our quest?
But God embraces us with the assurance, "My child, life itself is the adventure. I have given you life, and life more abundant. Enjoy your adventure. It is my gift to you."
LOOK FOR: WHO PUT THE VINEGAR IN THE SALT COMING IN NOVEMBER
ABOUT SECOND HELPINGS: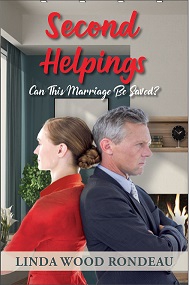 Today is Jocelyn Johnson's 45th birthday. Unhappy with her marriage of 22 years, the parenting talk show host has planned a noonday tryst with her cohost. A phone call from her college daughter, a peek into her teenaged son's journal, a sick preschooler, a Goth daughter's identity crisis, a middle-school son's prank, and her husband's inflamed suspicions, not only interfere with her hopeful birthday plans but throw her family into more chaos than a circus on steroids.
In desperate need of counsel, Jocelyn invites a Christian to dinner, her guest from her morning talk show segment. However, the evening holds little promise of calm. In the midst of bedlam, a forgotten faith rekindles causing Jocelyn to rethink her life and her marriage.
You will laugh and you will cry from the first page to the last as you journey through the day's events and Jocelyn's search for Second Helpings.
Buy Link: https://www.amazon.com/Second-Helpings-Humorous-Contemporary-Novel-ebook/dp/B087C744HZ