Photo by Travis Essinger on Unsplash
A KERNEL OF THOUGHT
BY LINDA WOOD RONDEAU
So Christ himself gave the apostles, the prophets, the evangelists, the pastors and teachers, to equip his people for works of service, so that the body of Christ may be built up until we all reach unity in the faith and in the knowledge of the Son of God and become mature, attaining to the whole measure of the fullness of Christ. Then we will no longer be infants, tossed back and forth by the waves, and blown here and there by every wind of teaching and by the cunning and craftiness of people in their deceitful scheming. Instead, speaking the truth in love, we will grow to become in every respect the mature body of him who is the head, that is, Christ. From him the whole body, joined and held together by every supporting ligament, grows and builds itself up in love, as each part does its work (Ephesians 4:11-16 NIV).
This is God's plan then for growing His Kingdom. Wouldn't it be easier to simply send down His angels to dictate to us what we should and shouldn't do? He has given us a discerning Holy Spirit that will direct us if:
We listen
We obey
Perhaps this is why God has dispersed his gifts to us; differently. As a writer, I have learned not to approach my craft from a cookie-cutter perspective. Not to be negative toward those who work best under a formulaic method. God blesses the works of our hands whenever we do something in love, whether in or out of the box.
However, God has crafted us uniquely for the benefit of others. When we do the work he gives us, as his Spirit directs, then and only then will our purpose be found.
LOOK FOR: WHO PUT THE VINEGAR IN THE SALT COMING IN NOVEMBER
ABOUT SECOND HELPINGS:
Today is Jocelyn Johnson's 45th birthday. Unhappy with her marriage of 22 years, the parenting talk show host has planned a noonday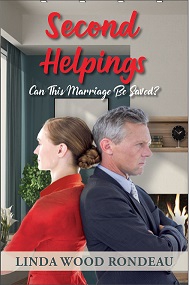 tryst with her cohost. A phone call from her college daughter, a peek into her teenaged son's journal, a sick preschooler, a Goth daughter's identity crisis, a middle-school son's prank, and her husband's inflamed suspicions, not only interfere with her hopeful birthday plans but throw her family into more chaos than a circus on steroids.
In desperate need of counsel, Jocelyn invites a Christian to dinner, her guest from her morning talk show segment. However, the evening holds little promise of calm. In the midst of bedlam, a forgotten faith rekindles causing Jocelyn to rethink her life and her marriage.
You will laugh and you will cry from the first page to the last as you journey through the day's events and Jocelyn's search for Second Helpings.
Buy Link: https://www.amazon.com/Second-Helpings-Humorous-Contemporary-Novel-ebook/dp/B087C744HZ