BIBLE GATEWAY'S NEW WEBSITE LOOK
Monday, August 3, 2020 by LINDA WOOD RONDEAU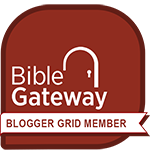 The Bible friendly website has a new look, with new info and study tools. after months of work, we're now rolling out a fresh, updated design for the Bible Gateway website. The color is a bit different and we now have a left-hand vertical navigation bar that expands and contracts for more usable screen space to accommodate viewing different Bible translations in parallel and reading supportive Bible reference material.
MY REVIEW
While I miss the old, familiar tabs, this new version appears to offer more information for the Bible student. The new format allows easier reading for multiple devices:
"Another feature is Bible Gateway's responsive design that automatically conforms the website to the screen size of whatever device you're using, allowing you to easily read on narrow to wide screens without having to scroll right or left."
Another good study feature is the ability to create a virtual parallel Bible in order to effectively see the various versions of a particular scripture.
I hope you will click on the links and see for yourself.
Read the announcement about our their new website at
https://www.biblegateway.com/blog/2020/07/tips-for-navigating-the-new-bible-gateway-website/
#BibleGatewayPartner.
---
---