Photo by Christian Wiediger on Unsplash
I shared a short elevator ride in my apartment building with a local police officer. My heart broke for him … he seemed pretty weary. He said he was just getting off a shift but didn't offer any more than that. I told him I did appreciate his efforts during this Pandemic to keep the area safe.
What a difference. He thanked me. I couldn't help but notice a clip in his step and how he carried himself a little straighter after a simple thank you.
I know police were fraught with internal issues in my growing up years. But I was always taught to respect law enforcement. Even if I disagreed with the way they were managing an incident. In my social work career, I had always found law enforcement helpful … protective and having a desire to make a difference.
Not to say reform isn't needed. Police are asked to manage situations that are heated and troublesome. Sometimes, a little counseling is all that may be needed to de-escalate issues. To me, attacking is the wrong way to obtain the reform society is asking. Defund? I told my husband, "Who you gonna call...Ghostbusters?"
I don't agree with the president very often. In this, I do. We need more funding for law enforcement to include auxiliary staff trained in counseling and how to take down a resistive suspect without using deadly force. There must be ways to temporarily incapacitate without causing permanent injury or escalating the resistance.
Officers are dealing with a growing disrespect or trust in policing, making tensions worse. No wonder so many of them fear for their lives when a suspect is resistive. Young people today are not taught to unconditionally respect authority. How is law enforcement going to function in an atmosphere of hate and lack of appreciation?
Perhaps law enforcement is not the only entity in need of training. Perhaps the public needs to be shown and educated on the rigorous daily routine an officer of the law endures.
My mind goes back to the unrest of the sixties … another time of protests and disrespect for authority … a time when law enforcement was called the fuzz or even worse, pigs. They were spat at and despised. Eventually, the social climate became less tense and appreciation returned.
Fast forward to September 11, 2001. How different society viewed our men and women in blue, their sacrifice, and the ultimate price paid in the line of duty. People everywhere were thanking all first responders for their dedication and commitment.
Law enforcement folks are still willing to serve and protect. We need to get behind them to help them gain the tools and knowledge needed to do their jobs. And maybe offer a thank you when opportunity knocks.
ABOUT SECOND HELPINGS
Today is Jocelyn Johnson's forty-fifth birthday. Unhappy with her marriage of twenty-two years, she has planned a noonday tryst with her talk-show cohost. A phone call from her college daughter, a peek into her teenaged son's journal, a sick preschooler, a Goth daughter's identity crisis, a middle-school son's prank, and her husband's inflamed suspicions, not only interfe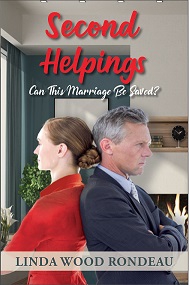 re with her hopeful birthday plans but throw her family into more chaos than a circus on steroids.
In desperate need of counsel, Jocelyn invites a Christian, her guest from her morning talk-show segment, to dinner. However, the evening holds little promise of calm. In the midst of bedlam, a forgotten faith rekindles causing Jocelyn to rethink her life and her marriage.
You will laugh and you will cry from the first page to the last as you journey through the day's events and Jocelyn's search for Second Helpings.
Buy link: https://www.amazon.com/Second-Helpings-Humorous-Contemporary-Novel-ebook/dp/B087C744HZ
ABOUT ME
A veteran social worker, Linda Wood Rondeau is also a wife, mother, and grandmother. She is no stranger to family bedlam. Her stories of encouragement and hope come from the heart. She resides in Hagerstown, Maryland with her husband of over forty-years. When not writing, the author enjoys the occasional round of golf. She also enjoys theater and is actively involved with her local church. Find more encouraging words in her blog, Snark and Sensibility, found on her website, www.lindarondeau.com. Click on website to signup for the author's newsletter.
Visit her on Facebook, Twitter, Instagram, and Pinterest.