Photo by pixpoetry on Unsplash
Remember Jim Neighbors, Gomer Pyle, who smiled with every new twist and turn in his life? I love surprises. And I hope I never get too old to appreciate the new or the old with a twist.
Not every surprise brings joyous news, like a flooded kitchen sink in the middle of a holiday dinner. But every surprise is a reminder that life is far from boring.
I am reminded of a stop we made some years ago at IHOP on our way to New York City to visit our son for Thanksgiving. Even an IHOP was a treat since back then we didn't eat as much and there were no IHOPs in our town.
We were met with a surprise in a place where we thought no one would know anything about us or that we were approaching our 33rd anniversary.
I left for a few minutes to go to the ladies' room. When I came back, I saw my husband's neck stretched, perhaps looking for me. Maybe I was gone a little longer than expected. When I sat down, an elderly man came to our table and handed us a poem he'd scribbled on a napkin, written in the voice of my husband. What a special moment, found at random. Made us want to give back a little…a random kindness in return to perhaps give someone else the pleasure of a surprise.
YOU LEFT ME by Joe Testo
My Darling, you left me
For a minute or two
Though that is not much
Still, I missed you
So I thank the Good Lord up above
For giving me you
My Darling, to love.
Give someone a random surprise today. In fact, come back and let us know about it. God bless.
ABOUT SECOND HELPINGS: MY NEWEST RELEASE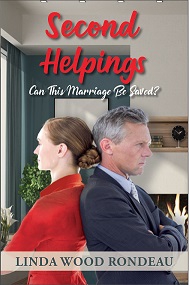 Today is Jocelyn Johnson's 45th birthday. Unhappy with her marriage of 22 years, the parenting talk show host has planned a noonday tryst with her cohost. A phone call from her college daughter, a peek into her teenaged son's journal, a sick preschooler, a Goth daughter's identity crisis, a middle-school son's prank, and her husband's inflamed suspicions, not only interfere with her hopeful birthday plans but throw her family into more chaos than a circus on steroids.
In desperate need of counsel, Jocelyn invites a Christian to dinner, her guest from her morning talk show segment. However, the evening holds little promise of calm. In the midst of bedlam, a forgotten faith rekindles causing Jocelyn to rethink her life and her marriage.
You will laugh and you will cry from the first page to the last as you journey through the day's events and Jocelyn's search for Second Helpings.
COMING IN SEPTEMBER: LEGACY OF REGRET (to be retitled)
COMING IN NOVEMBER: WHO PUT THE VINEGAR IN THE SALT (NONFICTION)
COMING IN MARCH, 2021 DAYS OF VINES AND ROSES (to be retitled)
THE AUTHOR IS AVAILABLE TO SPEAK AT YOUR LOCAL CHURCH OR COMMUNITY MEETINGS, IN PERSON OR ONLINE