Photo by Kon Karampelas on Unsplash
As a child of the sixties, recent events have me unnerved. I remember feeling oh so afraid to walk certain streets in downtown Syracuse. After graduating from high school in 1965, I worked at Syracuse University. I took the bus from my all-white Mattydale neighborhood to James St., as close as I could get to my work location. I still had to walk six blocks to the computer center. Until the riots started, I had no fear. Racism was something beyond my comprehension. I'd been brought up to believe in the sanctity of all life, and that I was no better than anyone else.
I remember as I walked those six blocks through a primarily black neighborhood, I wondered why people were segregated into different areas and suburbs of the city. My father worked two jobs to support our family. While we never wanted for basics—food and shelter—life was not easy. My parents scraped and saved what they could. I grew up with respect for hard-working folks –regardless of race, religion, or creed.
Until the riots, I'd had no fear of walking these streets. Now I passed out-of-work men who whistled at me or called me names as I walked by. I didn't know what I could have done to warrant this kind of disrespect. Why was I hated? I had done nothing to these people.
Since I had no other means to get to my job, I prayed for safety. Within a few months, the riots quieted and calm was restored. The weather turned colder, and the men no longer sat on the sidewalks. And having not gained any understanding of the basis for the riots, my ignorance returned.
Yes, I know now … though I had never thought of myself as prejudiced … I am still ignorant. Ignorant of the social separation that exists between cultures. Now, my prayer is no longer to "keep me safe" but to help me understand. Help me see the social disconnect that exists. Help me do my part to break down the barriers that separate cultures.
ABOUT SECOND HELPINGS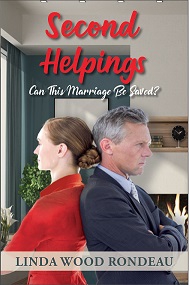 Today is Jocelyn Johnson's 45th birthday. Unhappy with her marriage of 22 years, the parenting talk show host has planned a noonday tryst with her cohost. A phone call from her college daughter, a peek into her teenaged son's journal, a sick preschooler, a Goth daughter's identity crisis, a middle-school son's prank, and her husband's inflamed suspicions, not only interfere with her hopeful birthday plans but throw her family into more chaos than a circus on steroids.
In desperate need of counsel, Jocelyn invites a Christian to dinner, her guest from her morning talk show segment. However, the evening holds little promise of calm. In the midst of bedlam, a forgotten faith rekindles causing Jocelyn to rethink her life and her marriage.
You will laugh and you will cry from the first page to the last as you journey through the day's events and Jocelyn's search for Second Helpings.
Buy Link: https://www.amazon.com/Second-Helpings-Humorous-Contemporary-Novel-ebook/dp/B087C744HZ/ e book
https://www.amazon.com/Second-Helpings-Humorous-Contemporary-Novel/dp/195197042X/
print
ABOUT LINDA WOOD RONDEAU
A veteran social worker, Linda Wood Rondeau is also a wife, mother, and grandmother. She is no stranger to family bedlam. Her stories of encouragement and hope come from the heart. She resides in Hagerstown, Maryland with her husband of over forty years. When not writing, the author enjoys the occasional round of golf. She also enjoys theater and is actively involved with her local church. Click here to signup for the author's newsletter
Social Media Links
Facebook https://www.facebook.com/lindawoodrondeau/
Instagram https://www.instagram.com/authorlindawoodrondeau/
Twitter https://twitter.com/lwrondeau
Pinterest https://www.pinterest.com/lwrondeau/pins/