Photo by chuttersnap on Unsplash
For I know the plans I have for you," declares the LORD,
"plans to prosper you and not to harm you,
plans to give you hope and a future (Jeremiah 29:11 NIV).
I recently heard a Christian counselor state in order to cope with the impact of the coronavirus, she needed to let herself grieve.
I try to stay strong for those around me. I ask myself, "Am I grieving? But for what am I grieving?" Perhaps the loss of something undefined. Perhaps the uncertainty of the future.
I look at the well-known stages of grief: denial, anger, bargaining, depression, and then finally acceptance. I observe our world's reaction to an enemy without arms and legs. I do see these emotions universally emerging.
Then I realized grieving this virus is similar to how we work through our sin to finding the gift of God's salvation as God brings us through the tunnel to his light.
Denial
Many refused to believe there was no real crisis. Likewise, before we came to know the Lord, we were in denial of our need for him. "If we claim we have no sin, we are only fooling ourselves and not living in the truth" (1 John 1:8 NLT). At some point, our head catches up to the reality we are lost without the Lord. We have a disease called sin and are in need of a remedy.
Anger
Anger is a natural response to the helplessness we feel. We want to blame and we lash out. Likewise, when we realize we are a slave to sin, we try to deal with the knowledge in harmful ways or blame others for the fault within us. Paul's advice: "Don't sin by letting anger control you." Don't let the sun go down while you are still angry.(Ephesians 4:26 NLT). God is not our enemy. Sin is. God has already fought the battle and won. Our job is to surrender.
Bargaining
Even then we struggle. We ask any entity that will hear us if to eradicate the virus, rather than helping us deal with what is. We want God simply to make it go away. Perhaps this is not his plan. Perhaps this thing has come to bring us to a different place. As for our sin, God's plan is to make us new in him. "And even when you ask, you don't get it because your motives are all wrong—you want only what will give you pleasure"(James 4:3 NLT).
Depression
Eventually, awareness and bargaining will give way to profound remorse and regret. We know this virus has destroyed much of our way of life. The loss of what once was overwhelms us. Like a disease, the recognition of our helplessness to cure our sin problem on our own leaves a gaping wound in our soul. David remarked how he wept day and night to be restored to the Lord "The LORD is close to the brokenhearted; he rescues those whose spirits are crushed" (Psalm 34:18 NLT).
Acceptance:
When it comes to this devastating virus, acceptance must come before we can truly "emerge." We must accept our way of life has been altered and look towards the future, knowing what was will end. There will be something new to take its place. That acceptance gives us peace. Like battling a disease, God does forgive and renew. When we reach the place of commitment, receive his love as a remedy for our sin, we are no longer the person we once were. We are reborn. "Peace I leave with you; my peace I give you. I do not give to you as the world gives. Do not let your hearts be troubled and do not be afraid" (John 14:27 NIV).
Therein is the hope of our future.
ABOUT LINDA WOOD RONDEAU
A veteran social worker, Linda Wood Rondeau is also a wife, mother, and grandmother. She is no stranger to family
bedlam. Her stories of encouragement and hope come from the heart. She resides in Hagerstown, Maryland with her husband of over forty years. When not writing, the author enjoys the occasional round of golf. She also enjoys theater and is actively involved with her local church. Find more encouraging words in her blog, Snark and Sensibility, found on her website, www.lindarondeau.com. Click on the website to signup for the author's newsletter.
Social Media Links
Facebook https://www.facebook.com/lindawoodrondeau/
Instagram https://www.instagram.com/authorlindawoodrondeau/
Twitter https://twitter.com/lwrondeau
Pinterest https://www.pinterest.com/lwrondeau/pins/
ABOUT SECOND HELPINGS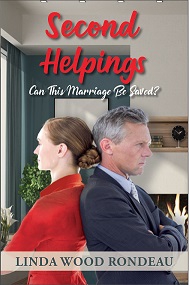 Today is Jocelyn Johnson's 45th birthday. Unhappy with her marriage of 22 years, the parenting talk show host has planned a noonday tryst with her cohost. A phone call from her college daughter, a peek into her teenaged son's journal, a sick preschooler, a Goth daughter's identity crisis, a middle-school son's prank, and her husband's inflamed suspicions, not only interfere with her hopeful birthday plans but throw her family into more chaos than a circus on steroids.
In desperate need of counsel, Jocelyn invites a Christian to dinner, her guest from her morning talk show segment. However, the evening holds little promise of calm. In the midst of bedlam, a forgotten faith rekindles causing Jocelyn to rethink her life and her marriage.
You will laugh and you will cry from the first page to the last as you journey through the day's events and Jocelyn's search for Second Helpings.
Buy Link: https://www.amazon.com/Second-Helpings-Humorous-Contemporary-Novel-ebook/dp/B087C744HZ/