Photo by Aryan Singh on Unsplash
You will seek me and find me when you seek me
with all your heart (Jeremiah 29:13).
Ever lose anything? The degree of searching generally matches the significance of the item lost. Jim's wife gave him a set of Calloway, embossed golf balls. Not only were they expensive to replace, but the special engraving said, "Love, Marcie."
He boasted of his gift and gave his wife a peck on the cheek for her thoughtfulness. He set up for his drive, but a poor follow-through caused his ball to slice far into the woods. Jim ignored the impatience of the foursome behind him as he tromped through the bushes and ferns, diligently looking for his lost treasure. And when he found it, everyone within earshot heard his rejoicing.
Dave teed up with a reconstituted ball, called xxx-outs. His ball landed just in front of the pond encircling the twelfth green. He took a huge divot from his poorly executed lob and laughed as the ball skipped a few yards on the water then sunk in the deepest part of the pond. He shrugged his shoulders in amusement as he pulled out another xxx-out.
When faced with sin, Christians, like golfers, will seek reconciliation according to the degree of importance God holds in their lives. Some sinners shrug their disappointment off like thin dust. While they may sense a slight prick of conscience, they quickly rationalize: "Everybody does it. After all, nobody is perfect."
But God desires that we seek Him with a whole heart. Sin is the means by which we realize our helplessness without God. When we come before Him with a contrite spirit, God never disappoints.
ABOUT LINDA WOOD RONDEAU
A veteran social worker, Linda Wood Rondeau is also a wife, mother, and grandmother. She is no stranger to family bedlam. Her stories of encouragement and hope come from the heart. She resides in Hagerstown, Maryland with her husband of over forty years. When not writing, the author enjoys the occasional round of golf. She also enjoys theater and is actively involved with her local church. Find more encouraging words in her blog, Snark and Sensibility, found on her website, www.lindarondeau.com. Click on the website to signup for the author's newsletter.
Social Media Links
Facebook https://www.facebook.com/lindawoodrondeau/
Instagram https://www.instagram.com/authorlindawoodrondeau/
Twitter https://twitter.com/lwrondeau
Pinterest https://www.pinterest.com/lwrondeau/pins/
ABOUT SECOND HELPINGS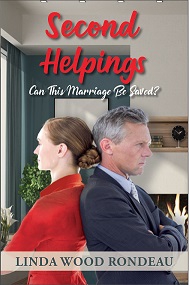 Today is Jocelyn Johnson's 45th birthday. Unhappy with her marriage of 22 years, the parenting talk show host has planned a noonday tryst with her cohost. A phone call from her college daughter, a peek into her teenaged son's journal, a sick preschooler, a Goth daughter's identity crisis, a middle-school son's prank, and her husband's inflamed suspicions, not only interfere with her hopeful birthday plans but throw her family into more chaos than a circus on steroids.
In desperate need of counsel, Jocelyn invites a Christian to dinner, her guest from her morning talk show segment. However, the evening holds little promise of calm. In the midst of bedlam, a forgotten faith rekindles causing Jocelyn to rethink her life and her marriage.
You will laugh and you will cry from the first page to the last as you journey through the day's events and Jocelyn's search for Second Helpings.
Buy Link: https://www.amazon.com/Second-Helpings-Humorous-Contemporary-Novel-ebook/dp/B087C744HZ/