Photo by Eric Muhr on Unsplash
The animation clip shows a cautious pedestrian waiting at a crossing lane. He pushes the button and waits for the light before crossing. He waits and waits and waits then looks up and down the street several times. Since there's no traffic, he wonders if it safe to cross. Growing impatient, he steps into the road. Amazingly, the light changes when his foot hits the pavement. At the next stop, the same thing happens, but he tests the pavement a little sooner. With each intersection, he meets similar success until he skips the rest of the way to his destination. The next day, with no reservations, he steps onto the road, certain the power to change the light was in his feet. He is surprised when he comes head to head with a semi.
This man's dangerous complacency is all too universal. We fall into its pit because we believe the same set of circumstances will bring about the same result. Only when the chair comes crashing to the floor do we wish we had tested it before sitting down.
Complacency is defined as a feeling of contentment or self-satisfaction, an inability to sense danger. Complacency damages the Christian because our action or inaction is based upon a flawed assumption. Our animated friend was quite content, but his self-confidence led him into a death trap. He put his faith in his own feet rather than in God's power.
Author, Kevin Eikenberry lists five faces to complacency in the corporate world. Perhaps these same truths apply to the Christian experience as well. Scripture may help some with a much-needed facelift.
The Champions: Why change the tried and true? Pride is the first step toward destruction. Proud thoughts will lead you to defeat (Proverbs 16:18 ERV).
The Resigned: What's the point in striving if the effort won't bring you closer to the goal? "I keep running hard toward the finish line to get the prize that is mine because God has called me through Christ Jesus to life up there in heaven (Philippians 3:14 ERV).
The Comfortable: When life seems good, why change? "I have told you these things so that you can have peace in me. In this world you will have troubles. But be brave! I have defeated the world!" (John 16:33 ERV).
The Tired: How can I climb to the heights when I can't even manage the first step? "We have troubles all around us, but we are not defeated. We often don't know what to do, but we don't give up. (2 Corinthians 4:8 ERV).
The Lazy: Why push any harder than what is necessary to get through the day? "God has made us what we are. In Christ Jesus, God made us new people so that we would spend our lives doing the good things he had already planned for us to do" (Ephesians 2:10 ERV).
We can avoid complacency by staying close to where God is, for as he breathes in us. We are being continuously changed and readied for eternity. The Israelites had wandered in the desert for forty years. Then God told them to move… to cross the Jordan and claim the promise given decades before. No matter where we are in the sea of complacency, once we set our sights back to Jordan, God will pull, push, or prod us out of our complacency toward an ever-increasingly vibrant Christian experience.
"At Mount Horeb the Lord our God spoke to us. He said, 'You have stayed at this mountain long enough." (Deuteronomy 1:6 ERV).
ABOUT LINDA WOOD RONDEAU
Award-winning author, Linda Wood Rondeau serves as both senior editor and acquisitions editor for Elk Lake Publishing. A veteran social worker, her published novels examine the complexities of human relationships. Most of Linda's work is contemporary fiction. However, she has published both speculative and non-fiction.
Her blog, Snark and Sensibility, hosts writers of various genres. She manages a Facebook page, Having the Prime of My Life, a positive look at aging issues. Linda resides in Hagerstown with her husband of forty years. Readers may visit her web site at www.lindarondeau.com. Contact the author on Facebook, Twitter, Instagram.
Amazon Page: https://www.amazon.com/Linda-Wood-Rondeau/e/B006FNG1BI/ref=dp_byline_cont_ebooks_1
ABOUT I PRAYED FOR PATIENCE GOD GAVE ME CHILDREN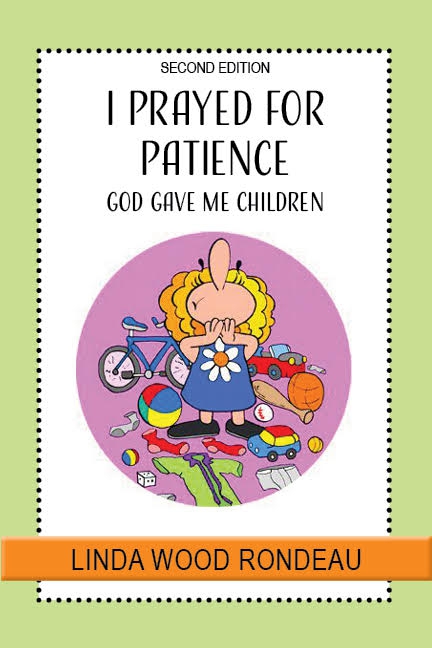 God indeed has a sense of humor. He chose children to teach us too-smart adults what it means to be his child, the very special relationship the believer enjoys with our Heavenly Father. We adults experience the same chaos, misadventure, and heartaches as our charges. Through a child's example, we learn how God nurtures us with his infinitesimal patience. This easy to read, often hilarious treatise, uses cartoons, witticisms, anecdotes, quotes, and scripture study to bring home these truths. A veteran social worker, Rondeau draws upon her many experiences in working with families as well as her personal experiences as a mom. "You will want to keep this book close at hand for those moments of weakness and pass it along to your friends."
Buy Link: https://www.amazon.com/Prayed-Patience-God-Gave-Children-ebook/dp/B07R75M812/ref=sr_1_1?keywords=I+Prayed+for+Patience+God+Gave+Me+children&qid=1583285106&sr=8-1