The sign says, "Smile God loves you." An overused phrase, perhaps, but I wonder if as believers we forget that basic truth. Why have we let the mundane and the dreary rob us of our joy? Why do we forget that we are the Beloved's and the Beloved is ours?
I must confess, there our days when choosing joy is difficult—much easier to wallow in my self-made bog of defeatist attitudes. Then the Lord reminds me of a lesson he taught me years ago:
I had just put the misappropriated toy gun back on the shelf. "No, John. Ask first." At three years old, he should know better than to put things into the grocery cart without my permission. I continued my grocery shopping trying to forget, at least for the moment, that I was destitute.
An unemployed, single mother of three, I believed, until that morning, I had already sunk to the bottom. Now, I was faced with possible eviction. Self pity filled me. My sour mood trenched in, doubt became my war buddy.
Putting the baby in one cart, I lifted the other two children into another and pulled it behind me. I choo-chooed my way through the supermarket, a maternal steam engine with a trailing caboose.
I unglued my eyes from my grocery list just in time to witness John dump a handful of candy bars into the cart. My howls echoed through the store like canyon winds. "What are you doing? Don't even think you're getting candy.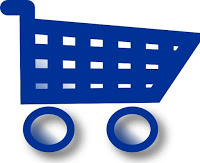 Feeling like Snow White's evil step-mother, I heaved the treats back on the shelf. Wet trickles slid down my cheeks as John's little face turned from rosy innocence to gray fright, his wails even louder than my reprimands. Like an out of body experience, I saw myself in frozen ugliness, and I wondered if this was what a nervous breakdown looked like.
Staccato-like bursts of joy pierced my nightmare. I reeled to find their source. No one around accept a near hysterical, rotund man, a department store Santa type even sporting a long white beard and black boots but sans the red suit. What nerve to find pleasure in my pain! But, as I passed from participant to observer, I realized how absurd I must appear. Soon, my own giggles sprayed the atmosphere like a happy geyser.
I don't know how long time stood still for the near Santa look-alike and me. But when the bustling resumed, despair was replaced by a cotton-cloud of peace. I remembered God's promise that he would never leave me forsaken. Despair gave way to hope.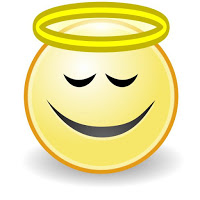 God sometimes sends his angels at times when we least expect Him to. Was that that odd, obese man on the supermarket bench, one of these times? Had I been so graced? I won't know this side of heaven for sure. But when sorrow crowds my day, I'm reminded of that fat elf, and I am filled with joy unspeakable. "Sing unto the LORD, O ye saints of his, and give thanks at the remembrance of his holiness. For his anger endureth but a moment; in his favour is life: weeping may endure for a night, but joy cometh in the morning" (Psalm 30:4 – 5 KJV