LINDA WOOD RONDEAU
ON TODAY'S
HAVING THE PRIME OF MY LIFE
"If you can't beat 'em…join 'em," my mother always said. Why she took up bowling lessons. Dad wasn't going to stop doing the things he loved. She either had to learn new things or go without companionship.
We fear change as much as the humans of the Star Trek NGT feared the Borg. We think we are giving up something intrinsic and uniquely us if we adapt and assimilate.
Years ago, movies were banned by those who feared the infiltration might ruin impressionable minds. While I was in school, movies became a staple in education…audiovisual aids…they were called. Some of the students actually took courses to learn how to operate the devices and how to change reels. Of course, that was before DVDs and YouTube.
When computers came along, some thought the end was near—visions of evil cyber intelligence taking over the world. Eventually, some educators began to see the educational despite the well-meaning church folk who decided the Internet was the devil's work. Now gadgets are used in the classroom and churches as never before.
I guess my mother's old standby, "if you can't beat 'em, join 'em," still holds true. Better to adapt and assimilate the new thing than to continue mindlessly with the comfortable and proven.
Perhaps the biggest reason for resistance is the fact that the older we get, the longer it takes to process and learn. Maybe that's why we want to hold to the old policies, to the old ways of doing things, to our antiquated equipment. It gets harder and harder to add new information to an all-ready crowded brain.
My mother's life saw many changes—from wringer washer machine and pedal-operated sewing machine to automatic clothes washer and an electric dishwasher. With each transition, she fought the change until time, energy, or the insistence of others forced the change. Always, though, she was glad she finally capitulated.
I vehemently opposed the digital age. I swore up I'd never learn how to use a computer. Then computers became mandatory in my job. I had no choice. "If you can't beat em, join em," I said.
I'll never be techno-smart, but I did learn that computers can greatly enhance the quality of life. And so I learned not to resist so hard, but to embrace change. And so my generation has gone from manual typewriters to electric typewriters to computers, from dial access antenna operated televisions to remotes to cable, from VCRs to DVR to TiVo, from clumsy movie cameras to camcorders to digital recorders and smartphones that do it all.
Every aspect of our lives is touched by change. We can resist and miss out on the wonders the new brings, or we can get on the surfboard of change and glide to shore, enjoying the ride.
ABOUT LINDA WOOD RONDEAU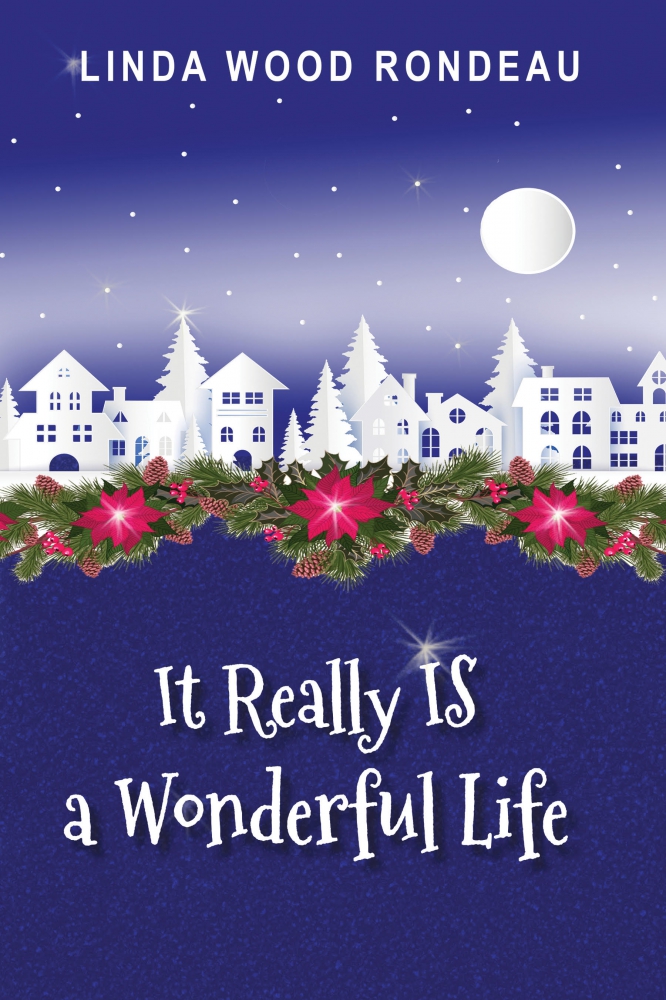 Award-winning author, Linda Wood Rondeau serves as both senior editor and acquisitions editor for Elk Lake Publishing. A veteran social worker, her published novels examine the complexities of human relationships. Most of Linda's work is contemporary fiction. However, she has published both speculative and non-fiction.
Her blog, Snark and Sensibility, hosts writers of various genres. She manages a Facebook page, Having the Prime of My Life, a positive look at aging issues. Linda resides in Hagerstown with her husband of forty years. Readers may visit her web site at www.lindarondeau.com. Contact the author on Facebook, Twitter, Instagram.
Amazon Page: https://www.amazon.com/Linda-Wood-Rondeau/e/B006FNG1BI/ref=dp_byline_cont_ebooks_1
ABOUT IT REALLY IS A WONDERFUL LIFE
Midville newcomer and Iraq War widow, Dorie Fitzgerald, despises the frigid Adirondack wasteland that has now become her home. After twenty failed job interviews, she questions the wisdom of moving to be near her parents. Desperate to belong, she joins the local Community Theater, in production for It's a Wonderful Life.
Jamey Sullivan has put his professional life on hold in order to run the family business and to help his ailing father. He signs on for Midville's production of It's a Wonderful Life, although he hopes to receive a Broadway casting call any day now.
When these two meet, they are instantly attracted to one another. However, ambition, demanding children, and a romantic rival threaten to squash their growing love for one another. Each must discover that the best things in life are found where your heart resides.
It Really is a Wonderful Life is set in the beautiful Adirondack mountains, a perfect backdrop for a Christmas romance.
Buy Link https://www.amazon.com/Really-Wonderful-Life-Linda-Rondeau-ebook/dp/B07YYNNNQS/