Photo by Mathew Schwartz on Unsplash

Shakespeare's Hamlet's inability to decide was the cause of a major tragedy. "To be or not to be," he pondered.
To be indecisive usually means to have difficulty making up one's mind.
Store managers know that limiting a buyer's options makes for better business. When faced with too many choices, sometimes shoppers simply don't choose. I've noticed that many popular large stores are cutting back on the varieties offered, sticking with the most popular brands and limiting customers' indecisions.
This holds true for me. On occasion, where there are multiple options for a product, I stand and gaze. Soups might come in low-sodium and regular, store-brands or popular brands, large sizes or smaller ones, envelope or cans, or ready-made options. If I'm not certain exactly what I want, I am overwhelmed by the choices. Sometimes, I give up and either grab the first thing that my hands touch or not purchase anything at all.
Therein is the bane of indecision … nothing accomplished.
Indecision can also be the result of not being sure of what I want. I might desire product A because it's healthier. Or I might opt for Product B because it's easier to prepare or less expensive. Or I might settle for Product C because it's more flavorful. If I can't make up my mind, I chose nothing.
Indecision can also be the result of wanting the best of all worlds. I want to stay on this side of the fence, but the other side seems far more exciting. Why can't I have the excitement and stay on the side I'm used to?
We are all vulnerable to the time-wasting impact of indecision. We go out to eat because we can't decide what to have for supper, even though the cupboards overflow. As for me, I'll often stand in my closet for several minutes trying to decide what to wear to church. Coming to no satisfactory conclusion, I just pick any old thing off the hanger and haphazardly put myself together.
We freeze in making a decision because we fear the consequences of a wrong choice. An ancient proverb states: "The risk of a wrong decision is preferred to the terror of indecision."
On Mount Carmel, Elijah faced the multitude of fence-sitting believers and said, "how long will you falter between two opinions? If the Lord is God, follow Him; but if Baal, follow him.' But the people answered him not a word" (1 Kings 18:21 NKV).
Jesus warned against indecision: "No one can serve two masters; for either he will hate the one and love the other, or else he will be loyal to the one and despise the other. You cannot serve God and mammon" (Matthew 6:24 NKJV).
The believer is faced with decisions on every front of his spiritual journey. From the myriad options available, how do we determine what best feeds our soul or what is God's will for our lives? We linger to obey because we fear we haven't heard God correctly. But if we fear we will make the wrong choice, we have an advocate … the Holy Spirit.
If any of you lacks wisdom, let him ask of God, who gives to all liberally and without reproach, and it will be given to him. 6 But let him ask in faith, with no doubting, for he who doubts is like a wave of the sea driven and tossed by the wind. 7 For let not that man suppose that he will receive anything from the Lord; 8 he is a double-minded man, unstable in all his ways.
(James 1: 5 – 8 NKJV).
Multi-published and award-winning author, Linda Wood Rondeau is a veteran social worker, her published novels examine the complexities of human relationships. Most of Linda's work is contemporary fiction. However, she has published both speculative and non-fiction.
Her blog, Snark and Sensibility, hosts writers of various genres. She manages a Facebook page, Having the Prime of My Life, a positive look at aging issues. Linda resides in Hagerstown with her husband of forty years. Readers may visit her web site at www.lindarondeau.com. Contact the author on Facebook, Twitter, or Instagram.
ABOUT I PRAYED FOR PATIENCE GOD GAVE ME CHILDREN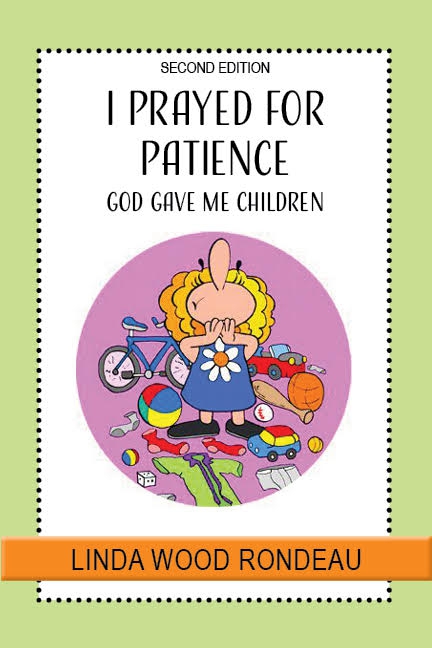 BUY LINK: https://www.amazon.com/Prayed-Patience-God-Gave-Children-ebook/dp/B07R75M812
God indeed has a sense of humor. He chose children to teach us too-smart adults what being his child means, the very special relationship the believer enjoys with our Heavenly Father. We adults experience the same chaos, misadventure, and heartaches as our charges. Through a child's example, we learn how God nurtures us with his infinitesimal patience. This easy to read, often hilarious narrative, uses cartoons, witticisms, anecdotes, quotes, and Scripture study to bring home these truths. A veteran social worker, Rondeau draws upon her many experiences in working with families as well as her personal experiences as a mom. You will want to keep this book close at hand for those moments of weakness and pass the story along to your friends.