photo by Linda Wood Rondeau
Seems like everything has a barcode.
My fitness program can scan all packaging and give me a near accurate calorie count.
I am amazed at how important bar codes have become, especially in retail management. The information not only factors sales totals but also assists managers in determining how much to restock.
My husband simply clicks on a barcode at the checkout in one large store chain, and the program automatically sends the receipt to his phone via the store app.
I heard the other day that some countries are beginning to use an implant for employees. Advocates say the inserted chip reduces the need for keys, cash, or credit cards. I suppose in the near future, stores will have a wave-your-hand option in their self-managed checkout line.
I expect these chips will be synchronized with personal computers as well in order to conduct on-line business.
I remember my first part-time job as a store clerk in W.T. Grants. I worked 20 hours a week after school and evenings and did some register work. In those days, prices were on the tags. The cashier punched numbered keys that totaled the amount of sale. The cashier had to know what items would require an additional charge for tax. The cashier had to know enough math to figure out the correct change, count it to herself as she pulled the money from the cash drawer, and count the amount to the customer.
Cashiers had to go to the office and get their "drawer" for their shift and hand the drawer back in when the shift was done in order to reconcile the amount in the drawer to the sales records. No codes to punch in the cash register. Shortages were a "no-no" and a cashier could be penalized if her draw came up short because she miscounted change. Cashiers had to be "bonded" in the event of theft or lost money. Drawers opened with the simple "No sale" key ... no password required.
Today, as I observe how machines do all the brain work, I wonder about the myriad of avenues are lives are registered and monitored by bar codes. Even medical services and, bank accounts. Try to get through a day without swiping something into a machine that calculates our vital statistics. Heck, we can even open up a charge account by simply putting in our social security into a terminus pad. Yikes.
According to "How Stuff Works" Universal Product Codes were originally created to help grocery stores speed up the checkout process and keep better track of inventory. But because the system worked so well, the use exploded to all areas of business and social programming.
I'm not sure this is good.
I must admit, I like the convenience of less brain activity, especially as I age. But I can't help but wonder what I've lost in the process, besides my math abilities. What do you think?
My book, The Fifteenth Article, a futuristic political thriller, describes a post-apocalyptic world in which only those who have an implant can conduct business. I wonder if that day is coming sooner than later?
ABOUT THE FIFTEENTH ARTICLE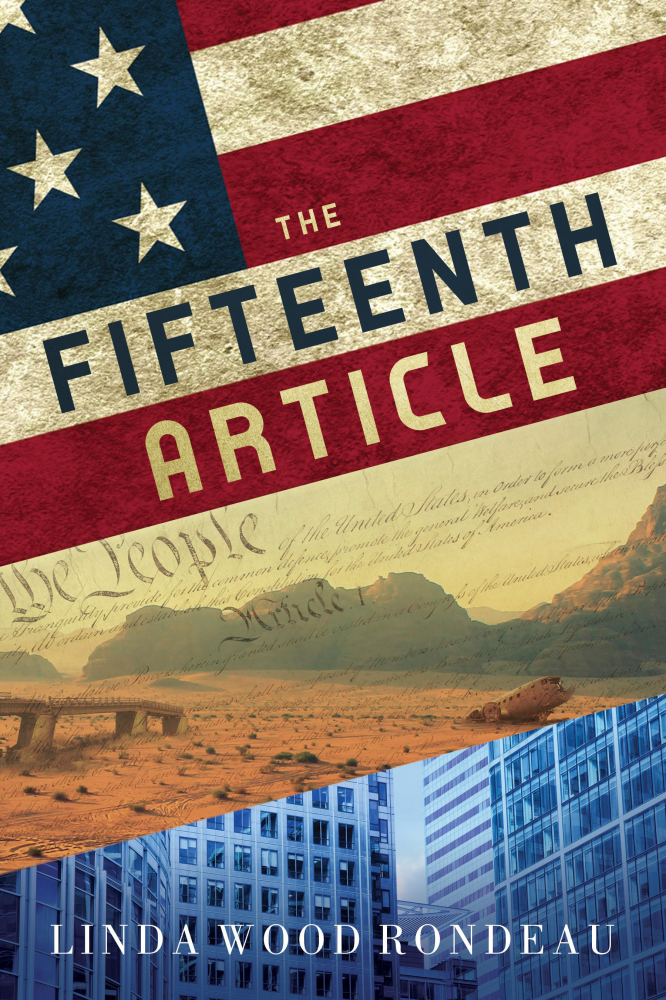 BY LINDA WOOD RONDEAU
Does Chaos in United Earth Foretell a Third Dark Age?

In a post-apocalyptic era, factions compete for control of a global government gone amuck. The Network, a system of outworld communities comprised of defectors and Nomadic tribes, has become organized and desires more independence from United Earth's dictates.

Edwin Rowlands, the current governor of Western America Province and President-elect of United Earth, fears if other outworlds follow the Network's example, the system of one government, one world, one people will collapse. His proposed Preservation Act, the Fifteenth Article of United Earth's Constitutional Government, would criminalize non-citizenship—past, present, and future—punishable by death without benefit of trial.

As the cry for freedom crescendos, Ahmed Fared, Rowland's Second-elect, fears a civil war that would usher in a third dark age. He calls upon the God of the Ages to once more intervene in the affairs of men.