Photo by Gesina Kunkel on Unsplash
HAVING THE PRIME OF MY LIFE

The quest to be thin is nothing new. One scientific paper (http://www.bis.gov.uk/assets/bispartners/foresight/docs/obesity/031-036.pdf) suggests that obesity dates back to our prehistoric ancestors and the necessity for survival. Humans fattened and slimmed according to the tides of plenty and famine. However, in modern times obesity is now considered a major health issue.
But I wonder in our quest to fight obesity if we haven't become hysterically driven toward the lean side of life.
Certainly, weight loss products and programs cram the market these days…all promising amazing results. And I have managed to take off about 25 lbs with the My Fitness Pal app suggestions. Hubs has taken off over 30.
Still, it's a bother. And … currently, I am in a holding pattern. Much like my last weight loss plan where I leveled off for a year before gaining it all back.
I have a friend who says over the years, with all the ups and downs, she's probably lost 1,000 pounds.
When I was growing up, the rage for weight control was a little caramel-like candy called AYDS.
Ayds, not to be confused with the disease, was an appetite-suppressant candy that enjoyed strong sales in the 1970s and early 1980s. It was available in chocolate, chocolate mint, butterscotch or caramel flavors, and later peanut butter. The active ingredient was originally benzocaine, a local anesthetic used as a topical pain reliever, also found in cough drops. Benzocaine supposedly suppressed the taste buds thus reducing the urge to eat. Later, the company changed the active ingredient to phenylpropanolamine (PPA), a stimulant often found in decongestants as well as treatment for urinary incontinence in dogs. In the USA, PPA is no longer sold without a prescription due to the increased risk of stroke in younger women.
I remember the old Slimfast commercials, some featuring aging athletes, and how easy it would be to lose weight with Slimfast products.
When I was in grade school, I remember my family doctor giving my mother advice on weight management. "It's simple arithmetic. You have to burn more calories than you consume. End of story. Just eat sensibly and exercise more."
Now, why can't I do that?
ABOUT I PRAYED FOR PATIENCE GOD GAVE ME CHILDREN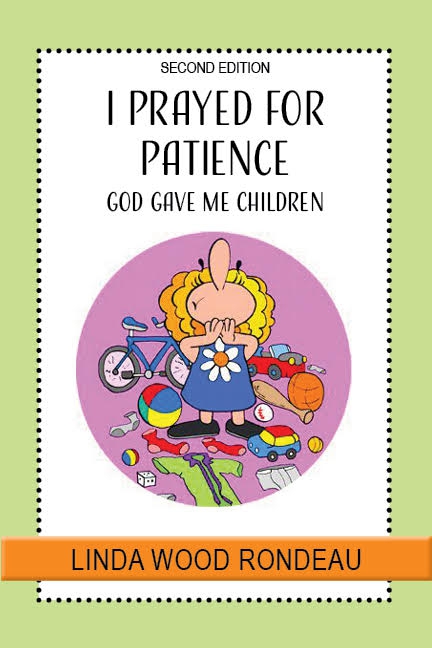 God indeed has a sense of humor. He chose children to teach us, too-smart adults, what being his child means, the very special relationship the believer enjoys with our Heavenly Father. We adults experience the same chaos, misadventure, and heartaches as our charges. Through a child's example, we learn how God nurtures us with his infinitesimal patience. This easy to read, often hilarious narrative, uses cartoons, witticisms, anecdotes, quotes, and Scripture study to bring home these truths. A veteran social worker, Rondeau draws upon her many experiences in working with families as well as her personal experiences as a mom. You will want to keep this book close at hand for those moments of weakness and pass the story along to your friends.
Coming in June 2020 Second Helpings. Falling in love with her husband, a second time … different than the first.
Coming in time for Christmas two revised books: It Really Is A Wonderful Life and A Father's Prayer
ABOUT LINDA WOOD RONDEAU
A veteran social worker, the author's published works examine the complexities of human relationships. Most of Linda's work is contemporary fiction. However, she has published both speculative and non-fiction.
Her blog, Snark and Sensibility, hosts writers of various genres. She manages a Facebook page, Having the Prime of My Life, a positive look at aging issues. Linda resides in Hagerstown with her husband of forty years. Readers may visit her web site at www.lindarondeau.com. Contact the author on Facebook, Twitter, Instagram.