Old age hath yet his honor and his toil:
Death closes all: but something ere the end,
Some work of noble note may yet be done…
Though much is taken, much abides; and though
We are not that strength which in old days
Moved earth and heaven, that which we are, we are.
One equal temper of heroic hearts,
Made weak by time and fate, but strong in will
To strive, to seek, to find, and not to yield.
Alfred Lord Tennyson
This is the sprint of life.
I've been experiencing severe joint deterioration—the by-product of earlier chemotherapy. As I hobbled into the ladies room at church, another woman of age and I discussed the fact that getting older ain't for wimps. We are of that age between Golden Years and Golden Bells.
https://www.youtube.com/watch?v=HZTdtc_Xs88
We are like those runners who give their all as they rush toward the finish line.
In my case, I might have to use a cane or supportive device when I cross but cross I will. We are until we aren't.
I suppose Alfred Tennyson has it right. As we turn the corner of our last years, some energy propels us forward. So much yet for us to do.
As a writer, I see the dozen or more books I need to get down on paper … or as is the case these days … into a computer file.
There is so much of life yet. So much of experience and knowledge yet to accumulate, wisdom yet to be gained. There are tasks yet to be completed that only I can do.
And I often joke that I'm still wondering what I'll be when I grow up. And I expect I'll ask St. Peter the same question when I meet him at Heaven's gate.
Though the bones ache and putting in a writing workday makes me ready for bed at 8:00 pm, it's exciting to know that God is not done with me until he rings those Golden Bells.
ABOUT THE AUTHOR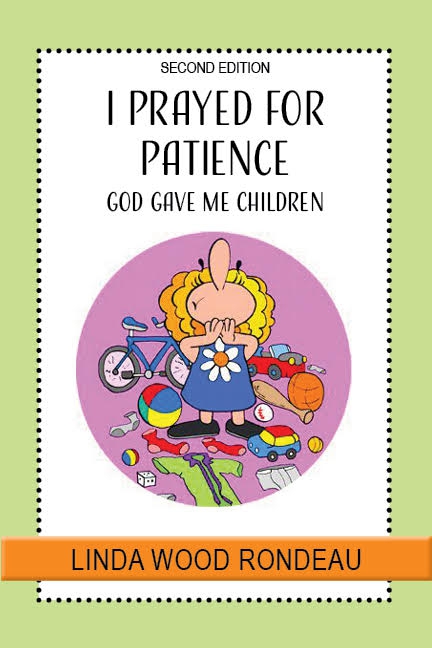 Besides writing books, articles, blog posts, and columns, I enjoy spending time with the hubs and taking time to do a little Bible Study. With modern medicine and the Lord's help, I hope to tackle that climb up Annapolis Rock. I've got hiking equipment … now I just need a knee and shoulder that works. I invite you all to have a good-humored look at the Golden Years and visit the facebook page, Having the Prime of My Life
ABOUT I PRAYED FOR PATIENCE GOD GAVE ME CHILDREN
No matter how old we get to be, we are still God's child. Anyone who has been around children knows that they can cause even the most patient among us to grit and groan at times. Yet, this is how God sees us … as children. He is patient with us because he loves us. This book explores how children are the teachers God gives us to better understand our relationship with him.
Buy link: https://www.amazon.com/Prayed-Patience-God-Gave-Children/dp/1950051412/