LINDA WOOD RONDEAU
HAVING THE PRIME OF MY LIFE
Are children worth the time and energy we put into children's ministry? I wonder as I get older if maybe I've done my time, and why shouldn't I enjoy this season of my life? Why shouldn't this be a time to relax or perhaps spend more time on the golf course? Haven't I done enough ministry over the years?
Our church recently completed a week of Vacation Bible School, entitled To Mars and Beyond. Steve was a Star Trek-inspired character who led the openings and closings along with his trusty side-kick EP320, a robot named after the theme verse: Ephesians 3:20 …" Glory to God who is able to do far beyond all that we could ask or imagine by his power at work within us."
The stranded Starship Galaxion required five fuel cells to make their return trip to Earth, and the Mars Outpost (our church voyagers) had the challenge of collecting the five elements—one each night: Faith, Boldness, Kindness, Thankfulness, and Hope. Steve and I also worked together for the twenty-minute Bible Story that emphasized the required element. Finding the right tone of delivery to keep the children engaged proved to be challenging, especially the younger set who suffered from tiredness after a long day. Us too!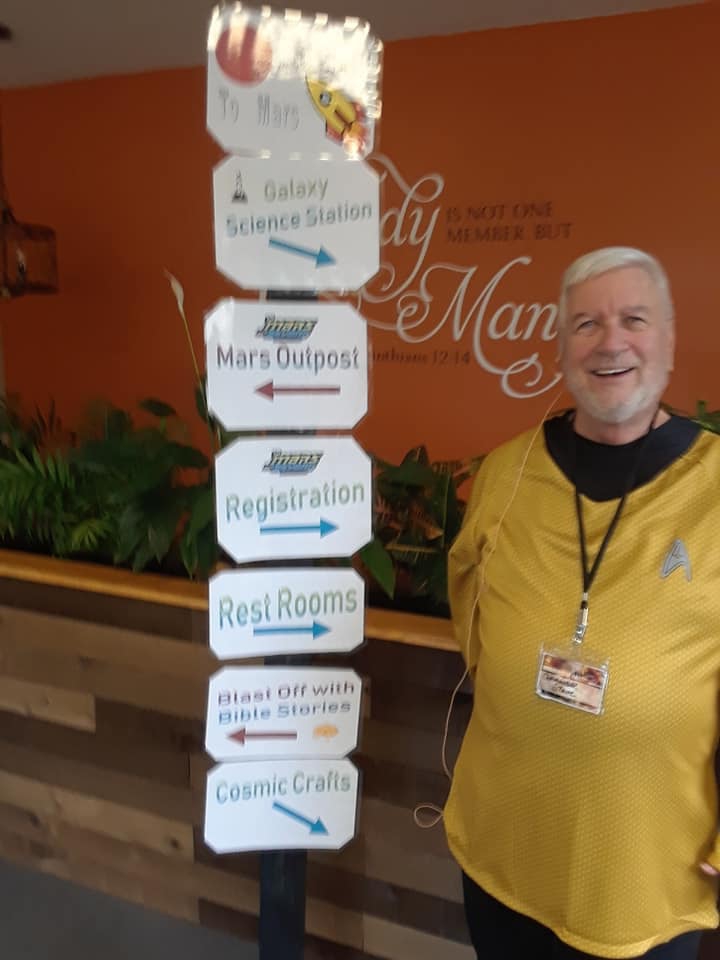 One night, when I was especially uncertain if I should continue this involvement in church life, my eyes filled with tears as I watched the children pray with one another and their group leaders. One tyke wanted to know how to give his heart to Jesus. This was the reason for the program … to encourage children to go deeper in their spiritual journey, rather than wow them with our cleverness or even our volumes of energy.
I remember a Vacation Bible School I attended as a youngster. At that time, God touched my heart and became to me something other than a curiosity. I realized that God could be real and involved in my life every day. The theme song that year was He's Everything to Me. The lyrics taught me that "He was more than just a god who didn't care, who lived away up there."
Our modern version of Vacation Bible School is attributed to the work of Mrs. Walker Aylette Hawes who became concerned over the rapid increase of immigrant children in the slums of New York City's East Side. In 1898, she staged a summer Bible program in the only available place – a saloon. She included worship music, scripture memorization, games, crafts, drawing, cooking, and other skills. By 1901, she expanded the service to seven schools. The concept grew as churches realized the opportunity to reach unchurched children.
During my lifetime, I have seen many evolutions of VBS. Years ago, Vacation Bible Schools were held during the day over a period of two weeks. Due to a shortage of workers, many churches have abandoned trying to offer a Vacation Bible School program. Some have opted for night-time for one week. Some larger churches have met the summer need through offering one or more weeks of day camp, fashioned very similarly to Aylette Hawes's formula.
Are we too old to work with children? Jesus loved the children. He summoned them to him. One artist pictures Jesus holding a young child up in the air and laughing with the delighted young one. When the disciples rebuked the children for getting in Jesus's way, he reminded his followers that the Kingdom of Heaven was for those who would open their hearts with the same enthusiasm and delight. If we feel we are too age-privileged to love on the little ones, perhaps we need to rethink our spiritual purpose. God's not done with us yet and still has work for us to do.
This summer, I encourage you to invite a child to a VBS near you. Better yet, mosey on down and help out. Leaders will appreciate an extra hand, and you'll be glad you did.
ABOUT LINDA WOOD RONDEAU
Multi-published and award-winning author, Linda Wood Rondeau is a veteran social worker. Her published novels examine the complexities of human relationships. Most of Linda's work is contemporary fiction. However, she has published both speculative and non-fiction, most notably I Prayed for Patience God Gave Me Childr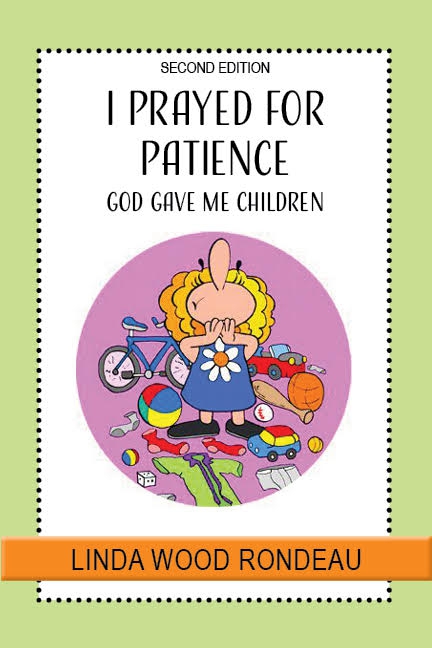 en
Her blog, Snark and Sensibility, hosts writers of various genres. She manages a Facebook page, Having the Prime of My Life, a positive look at aging issues. Linda resides in Hagerstown with her husband of forty years. Readers may visit her web site at www.lindarondeau.com. Contact the author on Facebook, Twitter, or Instagram.
ABOUT I PRAYED FOR PATIENCE GOD GAVE ME CHILDREN
God indeed has a sense of humor. He chose children to teach us too-smart adults what being his child means, the very special relationship the believer enjoys with our Heavenly Father. We adults experience the same chaos, misadventure, and heartaches as our charges. Through a child's example, we learn how God nurtures us with his infinitesimal patience. This easy to read, often hilarious narrative, uses cartoons, witticisms, anecdotes, quotes, and Scripture study to bring home these truths. A veteran social worker, Rondeau draws upon her many experiences in working with families as well as her personal experiences as a mom. You will want to keep this book close at hand for those moments of weakness and pass the story along to your friends.