On most holiday family get-togethers, the Green Stuff makes an appearance. This is what my children called my mother's pistachio pudding mix that featured marshmallows and pineapple chunks in creamy pistachio pudding. This was my mother's contribution to family dinners and my children's favorite. My mother passed away more than a decade ago, but my children love to revisit those fond memories. Our grandchildren were young when my mother left this earth. The presence of Green Stuff gives opportunity for the children to hear the stories of their great grandparents, of life long ago, and of people they did not have the privilege of knowing. Yet, those dear ones are a part of who they are now.
My friend, Heather, a recent widow, has decided to honor her husband with a yearly feast of his favorite foods. In this venue, she will share stories of him with her grandchildren and great-grandchildren.
Food can also trigger no so happy memories.
I know, for me, this is true of lima beans. I hope when my grandchildren have a feast in my honor, they will leave out Lima Beans. They were the most detested food I was forced to eat as a young girl. They'd stick in my throat and make me choke. To this day, I cannot eat lima beans.
In an article from Psychology Today, Susan Krauss Whitbourne, Ph.D., states, "From pleasant conversations to painful tension and arguments, family meals run the full emotional gamut. Without realizing it, these emotional memories, associated with both the food you ate and the atmosphere in which you ate it, have become part of your adult sense of self."
The question then arises, "How can I bring an atmosphere of pleasant eating that will evoke and produce positive memories when our fast-paced schedule requires we gobble down our food as fast as we can to get to the next event? Will my children only associate food with indigestion?"
Perhaps the fast-food, already-cooked, home-delivered pizza phenomena of today's harried lifestyles aren't the demon, but rather the tension associated with these foods. "Hurry up … we'll be late." Sit-down family meals have become a rarity in American families. Even so, we can quiet our hearts, perhaps say grace after we retrieve our McDonald's fare, make jokes, or sing silly songs. Who knows, in twenty years or so, that laughter and peace we enjoyed as we sped from McDonald's to soccer practice, will be the Green Stuff of future generations.
About I Prayed for Patience God Gave Me Children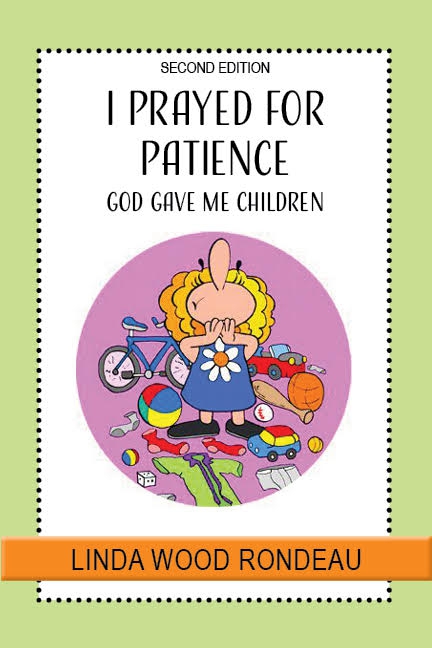 God indeed has a sense of humor. He chose children to teach us too-smart adults what it means to be his child, the very special relationship the believer enjoys with our Heavenly Father. We adults experience the same chaos, misadventure, and heartaches as our charges. Through a child's example, we learn how God nurtures us with his infinitesimal patience. This easy to read, often hilarious treatise, uses cartoons, witticisms, anecdotes, quotes, and scripture study to bring home these truths. A veteran social worker, Rondeau draws upon her any experiences in working with families as well as her personal experiences as a mom. "You will want to keep this book close at hand for those moments of weakness and pass it along to your friends."
To purchase https://www.amazon.com/Prayed-Patience-God-Gave-Children-ebook/dp/B07R75M812
About Linda Wood Rondeau
The author of the acclaimed Hosea's Heart and Miracle on Maple Street, LINDA WOOD RONDEAU, a veteran social worker, writes from the heart of personal experience. A resident of Hagerstown, Maryland, the author shares her days with her husband and best friend in life, Steve. Readers may visit her website at www.lindarondeau.com. Contact the author on Facebook, Twitter, or Instagram.