During my recent hospitalization for hip replacement, I realized that the younger staff, though pleasant, treated me differently, as if they expected I had dementia and needed to be approached as something brittle. They talked to me as if I were a child. I wanted to say, "I'm nobody's honey but my husband's."
I'm not sure why young people feel they have to talk to older people like they are two years old.
Because I wasn't quite ready to be discharged, staff recommended I be transferred to rehabilitation. I agreed since it still took two people to help me out of bed. Partially because staff couldn't let me do things for myself and partially due to secondary paralysis from the spinal tap.
My "rehab" was merely "teaching" me how to take a shower from a portable bench and occupational therapy where they had me paint Christmas decorations. I found they rushed to help with things I could do for myself. Sometimes, I needed to assert my independence. "Thank you, however, I am able to do this. I'm a little slow. Please be patient."
As soon as I could get up out of a chair independently, I begged to go home.
I am grateful for the few extra days in the hospital and grateful for caring staff. However, the experience was a lesson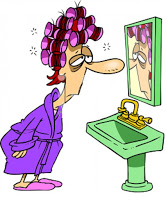 I found that attitude and good humor went a long way to dispel the younger people's bent toward ageism. By the time I left, most of the staff had changed the way they interacted with me … as if I were a peer instead of a crabby, old woman.
There is little we can do to stop the progression of old age. The body will eventually weaken. Most of us will end up requiring the assistance of others at some point, either temporarily or permanently. Our children may have to take on some of our care. That will be difficult. They may overextend their help … we must see their interference as love. Educate them as to what we are able to do and what we actually need help with.
Regardless of the physical and mental ravages of older age, we can choose to believe God still sees value in our existence … despite worldviews to the contrary purported from ageism. We must look at what we can still do rather than lament at what we can no longer do.
What do you think?
What has changed for you in your later years? How has a positive attitude helped you to cope?