PLEASE WELCOME
KATHY COLLARD MILLER
TO
TODAY'S WEDNESDAY DEVOTIONAL
Remember Adam and Eve trying to redeem themselves from their sin by using fig leaves? But God called out to them because He knew fig leaves ripped. Instead, He killed animals to provide skins, pointing to the future system of animal sacrifices. And those sacrifices point to the Lamb of God, Jesus, the ultimate sacrifice, who would die in our place on the cross.
When we doubt our security, we're saying His sacrifice wasn't sufficient. That's what I believed as a little girl. I believed God was standing over me, waiting for me to do something wrong so He could punish me. In my child's mind and heart, trying to find a way to protect myself, I envisioned a scale. I piled my good deeds on one side of the scale, my bad deeds on the other. Since nothing could be placed on the "good" side unless done perfectly, I piled the majority of my choices on the "bad" side. My only hope was becoming a perfect adult.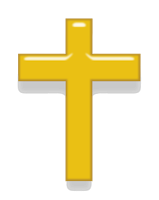 But glory to God, I heard the gospel clearly at the age of eighteen when a boy, Larry (my future and only husband), took me to his church. I understood for the first time nothing I could do would make me good enough to earn God's favor. So God offered it to me as a gift through Jesus' death and resurrection.
What glorious news! I prayed to receive Christ as my Savior and Lord on Sunday morning, October 1st, 1967. Unfortunately, I thought salvation was also the way for me to act perfectly. It does guarantee perfection in heaven but not on earth. Over these many years, God has been teaching me about grace and how only grace provides security—not what I do.
God knew you and I couldn't perform well enough, thus His love designed a plan for declaring us perfect based on Jesus' death and resurrection. God's wrath for sin has been appeased. Satisfied. Taken care of. Perfectly. Completely.
ABOUT KATHY COLLARD MILLER
Kathy Collard Miller is the author of over 50 books including At the Heart of Friendship: Daughters of
the King Bible Study Series, a women's Bible study with ten lessons about different aspects of friendship. An international speaker, Kathy has spoken in over 30 states and 8 foreign countries. www.KathyCollardMiller.com. Kathy and her husband, Larry, live in Southern California and often write and speak. They are parents of two and grandparents of two.