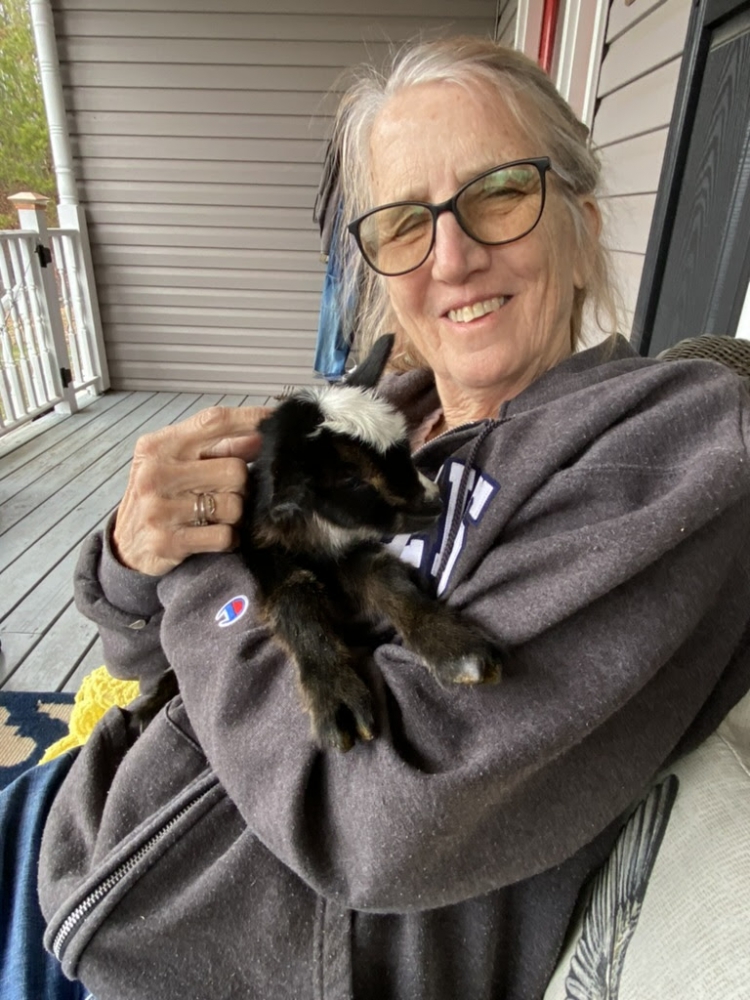 HEALING
BALM
Carol McClain
(reprinted by permission)
Where did the first two months of 2023 go?
The past year (and into 2023) challenged my spirit more than any other in my life. After a long decline, my mother passed away. In the new year, I had a ruptured appendix. While I lay in pain in the hospital, my brother died suddenly. Following this, my daughter had elective surgery. Then her father died.

I didn't do well with these blows. I became a turtle after my mother's passing--hiding from the world in my shell. At the end of the whole ordeal? I morphed into a snapping turtle. Woe to anyone who irritated me. I'd snap the person's head off with my anger.

Aren't you glad I didn't write during that time period? Are you rejoicing you didn't hang out with me?

However, God is my constant. As I crawled into his arms, he showed me how to become human once more. I learned to celebrate new life.

Here in Tennessee, spring has arrived. With it: Hershey!

My favorite goat gave birth to the only kid we'll keep this season. As I watched awestruck, Hershey came into the world, and he made my healing irreversible. Like the smell of a newborn human, the scent of the goat soothed as I nuzzled his soft fur. Watching his need to nurse and the mama's instinctive care for her kid salved my spirit.

To heal from death, I turned to birth.
I bought pansies--happy flowers that dance in the breeze. They sit on my porch and promise a glorious spring.
I anticipate two more kids within a month.
My husband and I bought chicks and are raising them to join the three chickens we already have. How cute are these downy little birds!
I started seedlings. Now straggling little plants.
I picked flowers and brought them into the house.
Little things promising new life and new beginnings lifted me out of my despair.

I share this because I know life is hard for all of us. Many of you face challenges: wayward children, the inability to have children, divorce, unfaithful spouses, debilitating illness, and death. Maybe your favorite dog has aged or the inflation ravaging our society makes you wonder how you'll pay your bills.

Look to rebirth.
Start spiritually. If you're not a Christian, admit you're a sinner and turn your life to Jesus. If you are saved, delve into God's words in the Bible and pray.

Jesus said he'd never leave us or forsake us. He said no temptation would overtake us--he'd make a way to escape.

For me in a time of death and loss: the celebration of new life has been my balm.
ABOUT CAROL McCLAIN
McClain is the award-winning author of four novels. A New York Yankee on Stinking Creek is the first-place winner of The Dragonfly Book Award for best novel.
This is "the best book I've read in 2020." Lena Nelson Dooley, a multiple award-winning author, and blogger.
The city girl vs the country girl. The sinner vs the saint… We aren't so different. We all need grace and truth. And above all these, love.
Says Joy Massenburg, author of A Heart Surrendered.
McClain writes novels about the redemption of the unredeemable. Even her most serious works are laced with humor. She is a consummate encourager, and no matter what your faith might look like, you will find compassion, humor, and wisdom in her complexly layered, but ultimately readable work.
Carol McClain is a past president of ACFW Knoxville and its current treasurer/secretary. She facilitates Postmark Writers, an offshoot of the LaFollette Art Group. She teaches online courses and is a clinical supervisor for WGU.
In addition to the above, she's served on the Board of Connections To Recovery, an organization dedicated to keeping addicts sober. She's mentored recovering addicts, and at one time, had been a foster mother–the complexity and difficulty of that calling proved she was better off writing about it than performing it.
(Is there nothing she can't do?)
Aside from writing, she's a skilled stained glass artist and a budding potter.
She lives in Tennessee with her husband, kitties, and Springer spaniel, and her growing herd of Nigerian Dwarf goats.
PRODIGAL LIVES (ABOUT CAROL McCLAIN'S RECENT RELEASE)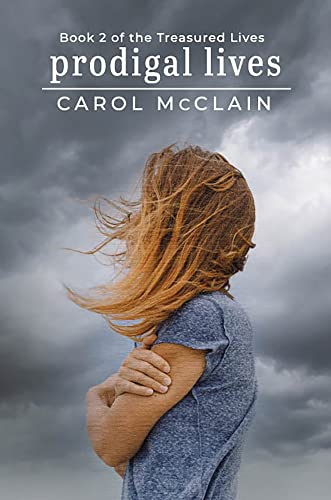 Life keeps piling problems on Meredith Jaynes. She loses her second foster child—one she was scheduled to adopt. Then Parker Snow refuses to marry her. With only her goats and artisan soap to support her, life will get no better.
If she is honest, though, she still has Crystal. Her funny, happy, loveable toddler makes the sun shine and reminds her of the never-failing love of God.
Pearl Solomon loves her life with her grandfather Guy, but every one of her triumphs is overshadowed by her sisters' lives. With Mama Meredith, they live a life she envies. Because of her jealousy, she refuses to contact them.
Years later, life for both families twist down paths they do not wish to travel. Pearl knows she's lost what was most precious in life but has no means of fixing things. Left to her own devices, she spirals out of control.
Meredith finds it harder to mask the despair infertility has brought to her life.
Both families believe they must reconcile themselves to their fates as reality shatters their dreams unless they dig deep for the promise of love.
See also: Borrowed Lives (the first of the Treasured Lives Series