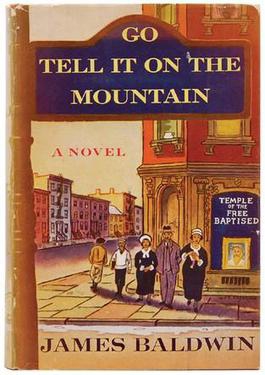 (image is of the first edition)
*The edition I read was published by The Modern Library, 1995)
FRIDAY'S FICTION
CLASSICS REVISITED
GO TELL IT ON THE MOUNTAIN/JAMES BALDWIN
ABOUT THE BOOK
Publishing in 1953, Go Tell It on the Mountain, is the story of a young black man in March 1935, who is struggling to find meaning in the contradictory spiritual environment in which he is raised. His stepfather, a storefront pentecostal preacher, is abusive, hardening the boy's heart against religion. And yet, he seeks to find meaning in the rituals of his religious practice.
Through a very deep personal point of view, the backgrounds of his mother, his biological father, and his fanatical stepfather are told. It is a poignant view of the black church in urban America, the deep spiritual roots of the community, while a brutally true-to-life portrayal of the hypocrisy within.
In 1998, the Modern Library ranked Go Tell It on the Mountain 39th on its list of the 100 best English-language novels of the 20th century. Time magazine included the novel on its list of the 100 best English-language novels released from 1923 to 2005.[2]
** https://en.wikipedia.org/wiki/Go_Tell_It_on_the_Mountain_
INTERESTING FACTS ABOUT THE BOOK
Written in a non-linear structure. Though the actual story takes place during a period of twenty-four hours, much of the book is comprised of flashbacks, some going back 70 years.
The novel takes place in New York City, primarily in Harlem in 1935. The flashbacks provide extended sequences in the American South, primarily in an unnamed town in the Deep South where Gabriel and Florence were born, and in Maryland where Elizabeth was raised.
Go Tell it on the Mountain is the author's first published work.
ABOUT JAMES BALDWIN
The book has many similarities to the author's real-life… born in 1924 in Harlem to an unwed mother who had left Maryland for New York and never knew his biological father. Several years later, his mother married a much older laborer and Baptist preacher from Louisiana who had come north in 1919. James Baldwin took his stepfather's surname and was raised as his son along with his many half-siblings.
Baldwin sought refuge in religion; and at fourteen, he began preaching himself and continued for several years.
WHAT READERS CAN LEARN
I was drawn to the deep spiritual struggle John Grimes encounters as he moves from total rejection of religion to a strong desire to find a personal connection to God. Everyone has baggage and spiritual stumbling blocks in their lives: disappointment, personal struggles, anger against hypocrisy, and the misadvice of elder churchgoers. Baldwin doesn't hold back or tiptoe around these issues. And yet, through all the dark stuff, there is a settling in the heart and mind of the main character. He has moved from second-hand religion to a personalized conviction of faith.
WHAT WRITERS CAN LEARN
I recommend the book to writers who enjoy writing from a deep personal pov. The book successfully and powerfully gets inside the character's heads … narrative is true to the character presented.