MATTHEW HENRY DAILY DEVOTIONAL BIBLE/A REVIEW
Tuesday, December 6, 2022 by Linda Wood Rondeau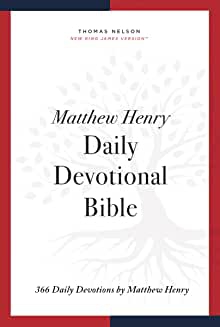 A REVIEW OF
THOMAS NELSON'S MATTHEW HENRY DAILY DEVOTIONAL BIBLE
Does a Bible scholar born over 350 years ago have relevance today?
Absolutely! Truth is truth, regardless of the century. Henry's insights into Scripture do not diminish with the passage of time.
I was privileged to receive a copy of Matthew Henrys Daily Devotional Bible as a Bible Gateway Blogger Grid member for my honest review.
#BibleGateway Partner
As one who likes to read the bible completely through each year, I like the concept of a devotional included within the Bible.
Although the devotionals are not listed in order of the date, they do pertain to certain Scripture, so are placed according to the Scripture reference.
I do like the verses listed at the back of the book. I'm looking forward to utilizing this NKJV (New King James Version) for my daily reading in 2023.
This would make an excellent gift for those on your list who enjoy devotional reading. You may purchase this at the FaithGateway Store or on Amazon.com.
I encourage you to utilize all of BibleGateway's free services and consider joining BibleGatewayPlus for access to many Bible study resources.
I trust you will enjoy this version of Thomas Nelson's Matthew Henrys Daily Devotional Bible
---
---