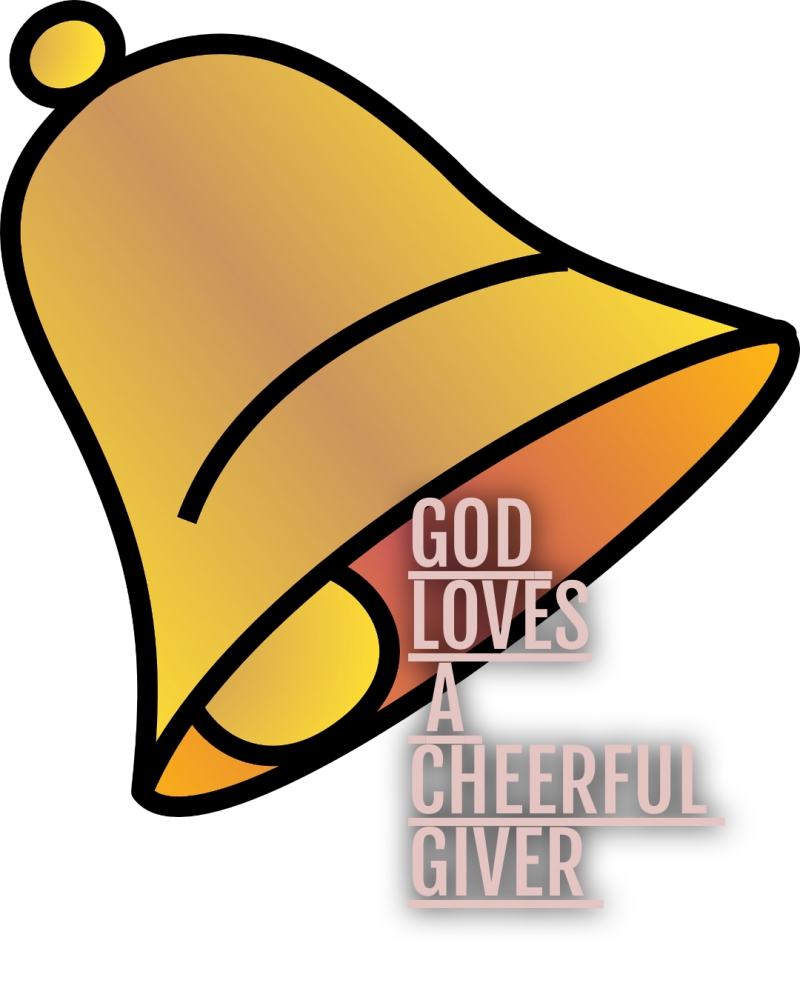 TUESDAY'S TREASURE
CHRISTMAS SPECIAL #1
A BELL RINGER'S EPIPHANY
BY LINDA WOOD RONDEAU
I wondered why I had volunteered. Too many things to do. And I hate the cold. It gets into my bones until nothing can make me feel warm again.
I had offered to be a bell ringer for the Salvation Army's Christmas drive. I bundled up and trekked to my station at the local grocery store. I donned the blue apron and picked up the emblem of my assignment, a small golden bell.
Then one by one the people came up to the little red bucket dropping in the change or dollars. Sometimes people felt like talking. Other times, they nodded and left. Still others dropped their gift and scurried off to complete the sundry other tasks the season required of them.
"I brought you here to teach you something," the Spirit said to my heart.
Not to be so quick to volunteer?
"No. I want you to study these people. Examine the way they give."
And, I did. To my amazement, I learned the reasons for giving are as varied as the people who donate. Then I began to see similarities in people's motivation. And, I wondered where my heart would fit among theirs.
The first lady gave from her sorrow. This was her first Christmas without her mother. Her father had passed away only a year before. Eyes brimming with tears, she pushed twenty dollars into the bucket. "My mother was a bell ringer," she said. "Thank you for doing this." Then she rushed off, uncomfortable with her emotions.
The Spirit spoke again: He was despised and rejected by men, a man of sorrows, and familiar with suffering (Isaiah 53:3)
The next person gave from his abundance. His leather jacket and bulging wallet told all. He plopped a den-dollar bill into the bucket, pleased with his generosity. He straightened his shoulders, proud of his offering, then left.
The Spirit spoke again: From everyone who has been given much, much will be demanded: and from the one who has been entrusted with much, much more will be asked (Luke 12:48).
An elderly woman approached. Her threadbare coat and raveled scarf told of her station in life. Her cart also bore testament to her poverty. She stopped before the red canister, pulled out a thin and worn wallet from her purse, and dropped in her last two coins. "Maybe this will bring me good fortune," she said. She gave from her need as if investing in generosity would bring better days.
The Spirit spoke yet again: And my God will meet all your needs according to his glorious riches in Christ Jesus (Philippians 4:19).
Another elderly woman stopped by the kettle. Her head drooped from her heavy burden. She shrugged her shoulders, then reached into her purse for an assortment of change. "I don't feel right if I pass by one of these drums and give nothing." She trotted off, head slightly higher. Her giving well was a fountain of guilt.
The Spirit spoke anew: For I know my transgressions, and my sin is always before me (Psalm 51:3).
Lastly, a young man eagerly approached the drum, much akin to Tigger's Happy Bounce, and tossed his coins with a whistle. "I love this!" he said as he sailed out the door. "God's been good to me. This is one way I can say, 'Thank you.'" The young man gave from gratitude.
The Spirit spoke once more than fell silent: Each man should give what he has decided in his heart to give, not reluctantly or under compulsion, for God loves a cheerful giver (2 Corinthians 9:7).
Then I knew what the Spirit wanted me to learn. Christmas is a time of giving. I analyzed my own motivations. Do I give begrudgingly because it's expected? Do I donate from a feeling of loss? Do I hope one day my giving will be multiplied? Do I fear what will happen if I do not give? I hope that from this day on my giving will be from a grateful heart to a Savior who came as the atonement for my sins.