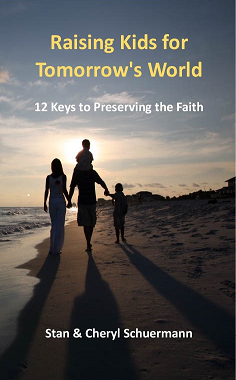 TUESDAY'S TREASURE
RAISING KIDS FOR TOMORROW'S WORLD
STAN & CHERYL SCHUERMANN
A REVIEW
Publisher ‏ : ‎ Pen It! Publications, LLC (March 30, 2022)
Paperback ‏ : ‎ 228 pages
ABOUT RAISING KIDS FOR TOMORROW'S WORLD
Through the pages of Raising Kids for Tomorrow's World, theological truth is presented in an easy-to-understand and fresh way through story, parable, and example. Works of both historic and contemporary pastors and theologians are woven throughout the chapters, utilizing the wisdom of Charles Spurgeon, Alistair Begg, and R.C. Sproul, among others. The authors desire that readers understand the theology and engage it, allow the wisdom of the Word to inform their parenting practice, and be encouraged to live by faith.
Thirty-six chapters are divided into twelve foundational sections, called passages. The word 'passage' is used to indicate the course by which a person passes or travels to get to a destination. Christian parents have a clear destination--to lead their children to an understanding of and obedience to God's Word and to faith in Jesus Christ. Parenting is a journey for both parents and children! Every chapter includes questions for reflection and discussion as well as ideas for application. Readers will learn to embrace their parenting role with confidence, wisdom, and courage as they raise their children to follow Christ and stand strong in not only today's world but in the years to come.
ABOUT STAN & CHERYL SCHEURMANN
Stan and Cheryl Schuermann have devoted themselves since 1999 to teaching and encouraging parents in the local church. Following their retirement from their professional careers, they began writing together. Raising Kids for Tomorrow's World is their first co-authored book. The Schuermanns raised four sons and now enjoy the blessings of thirteen grandchildren. Cheryl is the author of When the Water Runs: Growing Up With Alaska (Pen It Publications, 2019) and two books for children. Websites: https://preservingthefamily.com/ https://cherylschuermann.com/
MORE ABOUT RAISING KIDS FOR TOMORROW'S WORLD
In Raising Kids for Tomorrow's World, the authors bring to the reader a unique section of scripture in I Thessalonians Chapter 2 where the Apostle Paul shares how he loved, encouraged and taught his spiritual children. Twelve keys to preserving the Christian faith emerge from these life-directing verses.
From "Discover Boldness" to "Be the One Your Children Want to Imitate," parents will be strengthened to persevere with confidence. They will discover the essentials for building a culture of faith in the home, navigating their role as parents, and preparing their children to walk with Christ in an increasingly conflicted world.
MY REVIEW ****
Raising Kids for Tomorrow's World is a well-thought-out and well-written parenting guide for today's Christian parents. The Schuermanns used many Scripture references and also included quotes from well-known theologians and psychological references to support their concepts. Being successful parents themselves and well-grounded in Scripture also gave them authoritative expertise in writing this book. I think the educated Christian parent will gain much support from reading this book.
Although some actual tips were provided, I found the book more theoretical than practical. For parents looking to find scriptural and theological support in the concepts of raising children, this book would have been given *****. However, this book would not be of great advantage to less educated parents who may be seeking more specific ideas for problematic child-rearing.
As a former social worker, I can recommend this book to those seeking biblical principles for parenting guidance.
I was given a copy for my honest opinion.