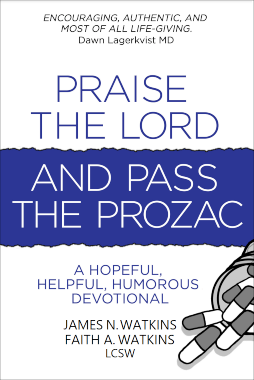 PRAISE THE LORD AND PASS THE PROZAC
BY JAMES N. WATKINS AND FAITH A. WATKINS
A REVIEW
AN EXCERPT FROM PRAISE THE LORD AND PASS THE PROZAC
You should also know, I (still Jim) am not a mental health expert! I'm more of a mental health example! I've dealt with depression and suicidal ideation since I was a young child. I've spent hours under the covers immobilized with clinical depression. My Attention Deficit Disorder has caused me to do all kinds of harmful and humiliating things. My Obsessive Compulsive Disorder drives me—and others—crazy. On the Myers-Briggs Type Indicator, I'm an off-the-chart introvert. And just to keep things interesting, I have a mild case of what used to be called Asperger's. It's now simply an entry ramp to the Autistic Spectrum Disorder highway. I hate having my daily rituals disrupted, I'm anxious around unfamiliar people and places, and I need twenty-four hours' notice to be spontaneous. So, I deal with clinical depression, serious introversion, ADD, ASD, OCD, and probably several other undiagnosed initials! Fortunately, I am joined in this book by my daughter, Faith, who is a licensed Clinical Social Worker (LCSW), as well as a Licensed Clinical Addictions Counselor (LCAC). She has a bachelor's degree in psychology and addiction counseling as well as a master's degree in social work. She has also struggled with clinical depression and has walked through some very dark times and places. So, I think we make a great team. I have a degree in theology and a minor in psychology, so I, the theologian, will offer you some biblical insights. Faith, the therapist, will provide behavioral strategies from her twenty years in practice. And because most of my twenty-plus traditionally-published books are filled with hope and humor, we're going to have some fun along the way. (I hope you brought snacks.)
MORE ABOUT PRAISE THE LORD AND PASS THE PROZAC
Brilliant! Funny! Each honest, relatable, and transparent chapter cuts through the stigmas and lies with a good dose of truth plus plenty of hope and humor. The theologian and therapist team provide readers with thought-provoking, positive, and practical comfort in knowing they are not alone.
Twila Belk
Popular conference speaker and author of The Power to Be
This is not a self-help book on mental illness, but a devotional offering ten affirmations backed with Scripture and studies for those us living with it:
I Am Not Alone I Am Forgiven
I Am Loved I Am Present
I Am Seen I Am Empowered
I Am Important I Am Victorious
I Am Planned I Am Eternal
"Dear friend, I pray that you may enjoy good health and that all may go well with you, even as your soul is getting along well" (3 John 2).
links for more information about these books:

If You're Not Dead, You're Not Done at agersanonymous.com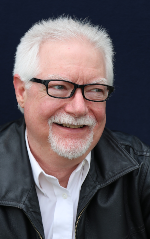 Praise the Lord and Pass the Prozac at jameswatkins.com/prozac
ABOUT THE AUTHORS
James N. Watkins is an award-winning author of twenty traditionally-published books and nearly three thousand articles. He is also personally familiar with clinical depression, ADD, OCD, a bit of ASD, and probably some other undiagnosed initials. Despite all of that, he has an undergraduate degree in Theology from Indiana Wesleyan University plus a minor in Psychology and master's work in Communications from Ball State and Purdue Universities. He has taught writing at Taylor University and has spoken at hundreds of churches, conferences, and colleges such as Regent, Liberty, and many others. jameswatkins.com
Faith A. Watkins is a Licensed Clinical Social Worker (LCSW), as well as a Clinical Addictions Counselor (LCAC). She earned her bachelor's degree in Psychology and Addictions Counseling from Indiana Wesleyan University and a master's degree in Social Work from Indiana University. For twenty years she has done extensive work with individuals and groups struggling with addiction and other destructive behaviors, as well as depression, anxiety, and other mental health disorders. She is currently developing a book and seminar on "Recovering Love" which honestly deals with her toxic relationships after a painful divorce. recoveringlove.com
REVIEWER NOTE:
The other book image at the top is also well worth the read: If You're Not Dead You're Not Done.
MY REVIEW *****
A pity I can't give this more than a five-star. Kudos to Jim and Faith for writing this book. a treasure of anecdotes, humor, Scripture examples, and personal experiences as well as professional advice. Thanks for helping me realize my foibles are not a spiritual problem but an emotional or mental issue. Many mental health issues are also physiological. We as believers should not judge anyone with mental health issues any more than we would judge someone with a broken leg. (Although some Christians might just think the person with a broken leg got what he deserved).
Jim and Faith have written a long overdue and poignant book that should be mandatory reading for all pastors and church leaders.
I highly recommend this book if you are suffering from mental health issues or have someone you love who is inflicted with mental health problems. An eye-opening and affirming experience.
I was provided a copy for my honest opinion.