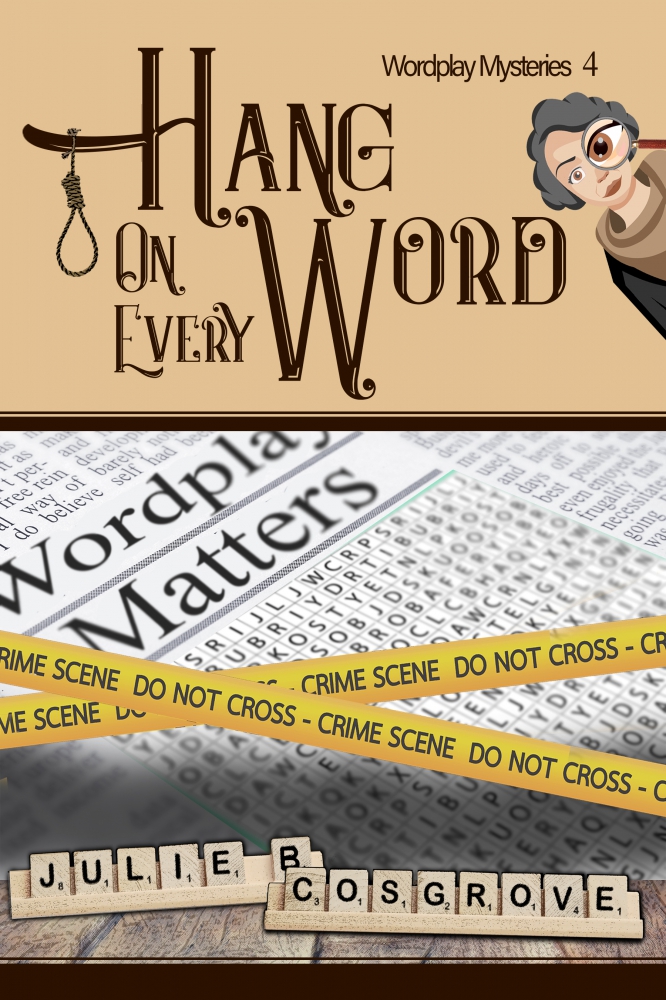 HANG ON EVERY WORD
Cozy Mysteries for Puzzle Lovers (Wordplay Mysteries Book 4)
BY JULIE B. COSGROVE
A REVIEW

Publisher ‏ : ‎ Pursued Books: an imprint of Write Integrity Press, LLC (August 26, 2022)
Publication date ‏ : ‎ August 26, 2022
Print length ‏ : ‎ 229 pages
STORY BEHIND THE STORY
My Scrabble friend came up with the idea for this series, combining my two pastime loves?mysteries and word games. Thus, the Wordplay Mysteries were born! All of the novels in the Wordplay Mysteries have "word" in the title and involve a word puzzle or game, but the well-known phrase is also a clue to the crime. The first three are Word Has It, Word Gets Around, and In Other Words.
So, this time, Hang on Every Word is a double entendre of sorts. It references the Hangman puzzle Wanda Warner is asked to provide for the local newspaper, a secret desire of hers God has seemingly brought to fruition. But it also hints at how dependent we tend to be on flattery and the opinion of others, which is one of Wanda's faults … as well as another character's fault in the book, as the reader will discover. When we look to others to fill our need for self-esteem instead of embracing the uniqueness God loves in each of us, we can let jealousy and pride seep into our actions.
MORE ABOUT HANG ON EVERY WORD
It can't be happening again!

Wanda Warner is delighted to design the wordplay puzzles in The Oakmont Gazette. But when the clues to her Hangman puzzle are used to coordinate robberies, some people in tiny Scrub Oak, Texas wonder if she's masterminding the thefts so she can "solve" them in order to bask in more glory.

Then her own nephew, one of the town's cops, hauls her into the police station as her neighbors look on. The totally embarrassed Wanda is determined to crack this treacherous word puzzle crime spree but can she do it before her fellow citizens hold a lynch party?

Enjoy this stand-alone, Christian cozy mystery - book four in the Wordplay Mysteries.
Note: It releases on August 26th but is on preorder. Julie, like her character Wanda, has a hard time with patiently waiting so she has a special offer to pass along. Everyone who preorders this week will get one or more of the first 8 chapters in their email FREE, once a week every Friday until launch day. Simply send her your Amazon confirmation code via her website's contact page: https://www.juliebcosgrove.com/contact
ABOUT JULIE B. COSGROVE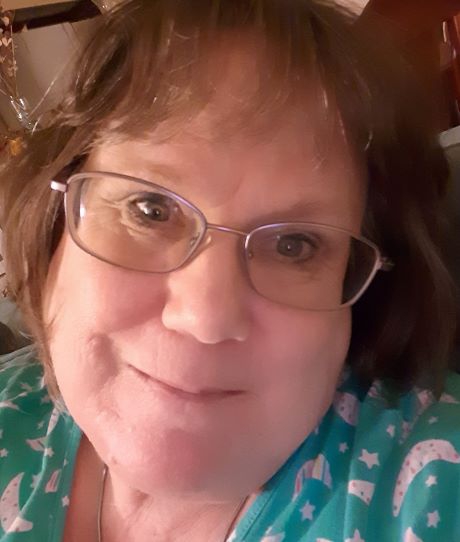 Even before Julie B Cosgrove became a multi-published, award-winning novelist, she'd developed a passion for words at a young age. She solved the word games in the daily newspapers. She and her mother shared many fun hours playing Scrabble. Then, another passion developed? whodunnits. She loved the Charlie Chan, Sherlock Holmes, and Hercule Perot movies that played on Saturday afternoons on TV. Nancy Drew and the romantic mystery novels of the late Mary Stewart kept her eyes dancing over the pages through her school years. Now, she has mysteries stacked up on her watchlist on Britbox and a long list of cozies on her to-be-read list.
Later in her adult life, her passion for Christ spurred her to write faith-based fiction and devotionals for several publications, which she has been doing since 2009. Her blog, Where Did You Find God Today? now has readers in over fifty countries.
But her writing passion remains in the mystery genre, the cozier the better. One day her sister asked, "Why don't you write them?" Cosgrove pondered it and decided to give it a go. Her first, Dumpster Dicing, won Best Mystery by the Texas Association of Authors in 2017. Since then, she has been contracted to write a total of sixteen more mysteries, ten of which have been published as of early 2022. She has three series?The Bunco Biddies Mysteries, The Relatively Seeking Mysteries, and the Wordplay Mysteries.
You can find previews of all of her fiction and nonfiction books as well as her blog's link on her website, www.juliebcosgrove.com.
MY REVIEW *****
This was a fun read and well-written. The story held my interest throughout. As a senior citizen myself, I could relate well to Wanda and her friends. Kind-hearted and a woman of deep faith, she struggles with aging dilemmas as well as the situations her curiosity gets her into. I particularly found the small town of interest, how our country's changing mores have caused changes in the way we view our community.
I recommend this book for both its entertainment value and its example of faith in action.