EXCERPT FROM
I PRAYED FOR PATIENCE/GOD GAVE ME CHILDREN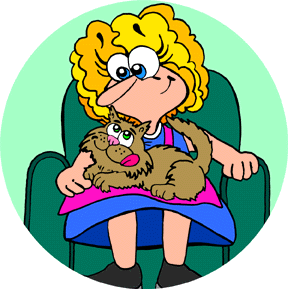 A cat will be your friend as long as you have tuna juice on your apron.
Greater love has no one than this,
that he lay down his life for his friends
(John 15:13).
FRIENDSHIP IS STICKY BUSINESS
While shared activities may be useful in establishing close ties with our children, a friend is more than a costumed playmate. Webster defines friend as: one who is attached to another by affection. Attachment denotes a joining that is not easily separated.
Friendship is about the presence of self. It has to do with occupying the same space and time, whether with laughter or tears. The activity itself is not the crucial element. A child wants to know a parent is near, not from a sense of duty, but from choice.
Friendship is more about being than doing.
It is not about how cleverly we read or the ingenuity we display during game time. Nor is friendship about who wins the Sorry tournament.
A true friend is like adhesive. One who does not let go. A friend is someone whom we admire and respect. A friend sets an example, someone we wish we could be more like. A friend stays the course no matter what storms may threaten the venture. A true friend does not criticize. Rather a friend encourages. A friend does not foster discouragement. Instead, a friend motivates. A friend never yells. A friend's words of correction are like music to the ear.
A friend postpones discipline in order to listen.
A friend stays by your side until you fall asleep
A friend walks with you even with sore feet.
A friend trudges through five-foot snowdrifts to bring you chicken soup.
A friend runs the race beside you and cries out, "You can do it."
A friend hears, "I love you," when we yell, "I hate you."
Instead of pointing out your faults, a friend lists your strengths. A friend helps you pack for the big trip. And most of all, a friend knows when to hold you tight and when to give you space. .
Christ is a friend like no other. He has shown His affection for us through His sacrifice on the cross. He desires
to be in our presence day by day. He accepts us as we are. He wants us to cry out to Him when the lights go out and no candle can be found. He comforts us when the very act of rising drains our last ounce of energy. He weeps with us when we are sad, and He laughs with us when we are joyful. He knows when to walk beside us or carry us the rest of the way.