o conventional weapon fashioned by man has yet stood against a parent who fights for their child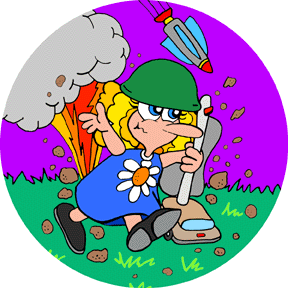 In every civilization, the soldier was sent into battle with certain rudimentary protective garb. Whether it is the Roman with a feathered helmet or desert fatigues of the Mideast conflicts, the soldier in combat is dressed in full regalia for the job. Likewise, parents need protection in the war to steal their sanity.

The Belt of Truth: When a soldier is called to attention, he tucks in the tummy and stands ready. In the same way, God wants us to take His Truth and wrap it around us. This Truth is that Jesus is God's Son—crucified for our sins, buried, risen and who now is at the right hand of the Father. Furthermore, Jesus has already won the war.
The Breastplate of Righteousness: Satan wants us to believe we are too sinful to be forgiven or that we are not in need of forgiveness. It is incomprehensible that a Holy God would choose to sacrifice His sinless Son on a cross for an undeserving and unappreciative world. But that was exactly what He did. This breastplate that guards our hearts, the seat of our vulnerability, is the promise of eternal life when we accept the gift God freely offers.
Shoes of the Gospel of Peace: The enemy hurls doubts to unsettle the peace God gives. When our spouse is late, the enemy will seed distrust in our hearts. Or perhaps our spirits are wounded by an unkind word. Without claiming God's peace, the hurt will fester and infect our relationships. But God's peace is ours to claim.
Shield of Faith: It is difficult to feel spiritual after scooping up dog poop and laundering vomit-laced sheets. It is difficult to pray when the baby has been crying all night from teething. It is difficult to recognize the Holy Spirit's work in our lives when Katie comes home with failing grades. The enemy attacks when we are the most exhausted. As God's child, we are heir to all of Heaven's power. With this confidence, we can boldly stand regardless of our circumstances.
Helmet of Salvation: Satan wants the believer to drown in meaningless stimuli. By intruding into our prayers and preventing our spiritual edification, he fills our minds with trash. He wants to cut us off from Christ's Holy influence. We serve Him because His very nature is alive within us.
Sword of the Spirit: God has given us His own presence in the form of the Holy Spirit. When Jesus ascended into Heaven, He reassured his followers that He would not leave them comfortless. Armed with the might of the Spirit, Satan has no dominion and must surrender in the face of this Holy Ghost power.
Armed with such an arsenal, the muddy footprints no longer seem like a personal vendetta. Instead, God fills us with the knowledge we need to fight the battle ahead.
He who fears the LORD has a secure fortress.
and for his children, it will be a refuge
(Proverbs 14:26)